In the World Cup qualifier against Spain, Zlatan Ibrahimovic created an ugly scene. Now he said, "It was on purpose and I would do it again."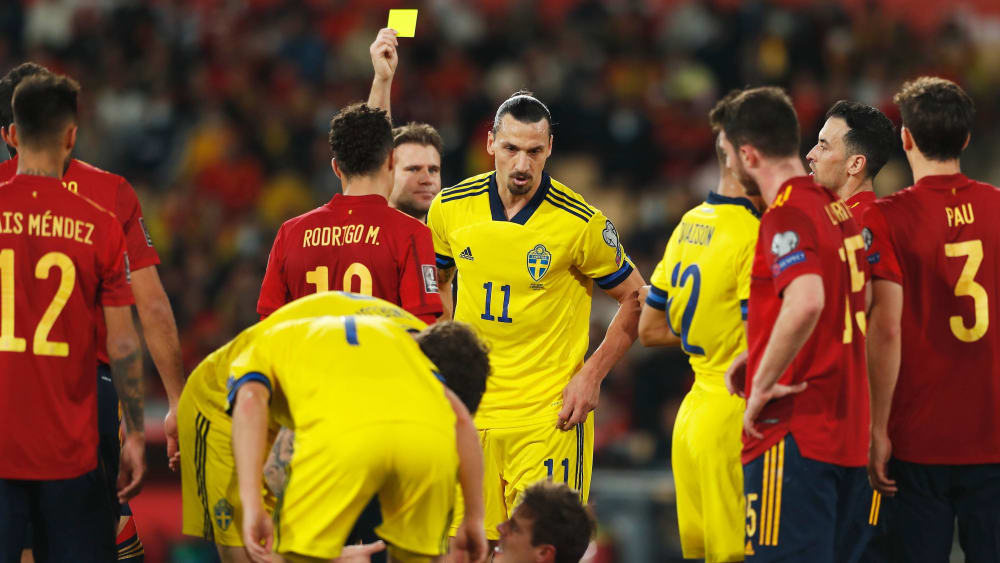 Referee Dr. Felix Brych only showed yellow to Zlatan Ibrahimovic in the World Cup qualifier in Spain.
image images / AFLOSPORT
Sweden will start in the World Cup play-offs without Zlatan Ibrahimovic (40). The attacker picked up a yellow card suspension as a substitute in stoppage time of the last qualifying game in Spain (0: 1), which was unnecessary for everyone – just not for Ibrahimovic himself.
At a Swedish corner, Ibrahimovic Cesar Azpilicueta (32) brutally rammed his left shoulder in the back, so that the Chelsea captain crashed into the man in front of him and finally to the ground. Now the culprit freely admitted, "I would do it again. 100 percent. That's me."
What was going on inside him? "I did it on purpose and I'm not ashamed to say that. Because he did something stupid to one of my team-mates," Ibrahimovic told the Guardian. Azpilicueta had "played the big man" towards the team-mate who was not named.
"You don't have the balls to do it to me"
In retrospect, Ibrahimovic thinks that he punished this with an assault for which Red would have been appropriate, "stupid", but: "I did it anyway to make it clear to him: 'You damn well won't do that. You haven't the balls to do it to me. I'll show you what happens when you do that. ' That's why I did it. "
After the game that secured Spain the World Cup ticket, Azpilicueta only reacted to the scene with the tweet "Everything is fine here" and a photo that shows him smiling on the plane. And on the square? "What should he say?" Said Ibrahimovic contemptuously. "He won't tell me, but my teammate – who won't do anything because he's too nice."
Ibrahimovic apparently does not mind that he is now banned. "It's not about that," he says. "It's about making the guy realize that you don't make fun of someone who's down. You don't attack a dog who doesn't talk. Attack whoever is able to do something. It is too easy to bully my teammates, who are 20 and very nice. I hope he understands that now. "
Zlatan got a yellow card for this shoulder charge on Azpilicueta ?? pic.twitter.com/64ipgvvm4X

— ESPN FC (@ESPNFC) November 15, 2021



www.kicker.de