Three goals, two assists, a lot of self-confidence: Niko Gießelmann (30) works in the field at 1. FC Union and is still right in the middle of it all. Despite eighth place, he still sees room for improvement in the team.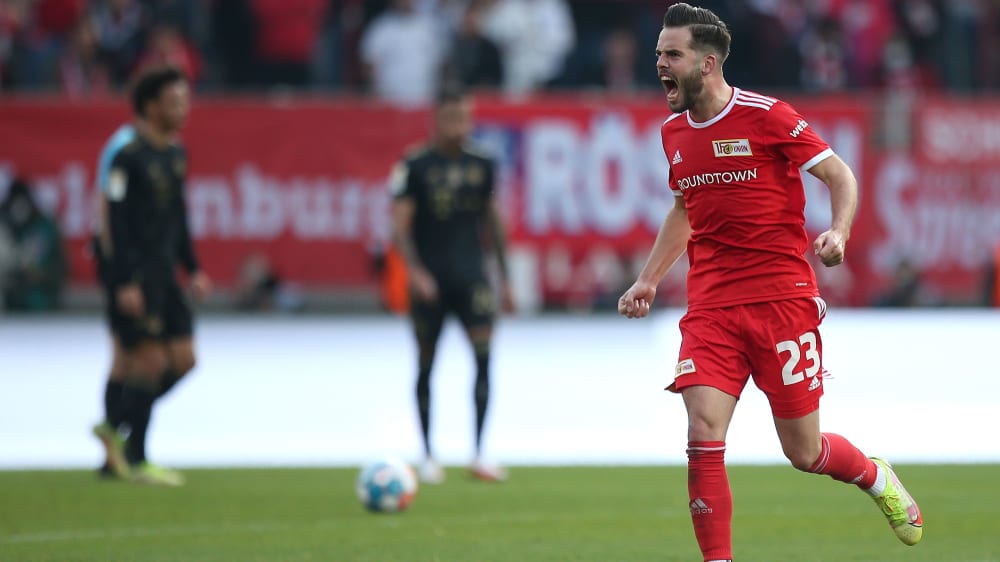 Already three times successful this season: Union full-back Niko Gießelmann.
picture alliance / M.i.S.
In his first season in Berlin, Gießelmann, who came free of charge from Fortuna Düsseldorf in 2020, was more of a marginal figure. He came to only 13 league appearances, nine substitutions were among them. Now, in the second year of the Union, it's set – and it's turning up. With five scorer points after eleven match days, the left-back with an offensive urge has a remarkable interim record and is currently the second best Union scorer in the Bundesliga after goal scorer Taiwo Awoniyi, who scores seven league goals. On Tuesday Gießelmann spoke in a media round about …
… the goals conceded late in Cologne and Stuttgart: "Strength – or lack of strength – does not matter. We had a good mentality in all the games and a mileage of almost 122 kilometers in Cologne. That shows that we are fit. The goals conceded late were annoying, but had nothing to do with our triple burden to do."
… the league break because of the international matches: "I'm happy about it, even if I prefer to play than train. It's been three and a half weeks with seven games. Playing every third day is exhausting. But we have a good squad that put it away. We were able to do it in everyone Play to invest 100 percent. After this high level of stress, you are happy to be able to slow down a bit and regenerate. "
It will always be a dream.

Niko Gießelmann on the Champions League
… Union's first third of the season: "We can be satisfied. We made a good to very good impression in the DFB Cup and in the league. If we had won in Cologne on Sunday, we would have been fourth. It's amazing to be in such good shape. In the conference League everything is still possible, even if it has become difficult because of the avoidable defeat against Feyenoord Rotterdam. The competition has not yet gone optimally. But if we play Haifa as we did in the first leg, we can win there. And then it's in the last game (on December 9 against Slavia Prague, d. Red.) everything in it."
… close contact with the Champions League places: "I didn't think about that. It is of course a dream and will probably always remain a dream. We have to see where we come from. Our goal is to have a good season and play the Bundesliga next season."
… opportunities for improvement: "We are a team that plays very well organized and disciplined and defends very well. We are very well positioned. But I don't think we are at the limit. What runs through the season: that we have second balls and counter-situations like play badly at the game in Cologne. We were too sloppy. And even in our own possession phases we need more rest on the ball and more movement with the ball. We're not good enough at that. That was partly better last season, because we had we have a higher percentage of ball possession. We have to work on this, we still have some catching up to do. "
… Union team spirit: "We are a shrink-wrapped troop, get on well, one of them fights for the other. You can make mistakes and know that they are usually corrected by your teammates. We run for each other and give 100 percent of every game. The mentality is great That is what sets the club and us players apart. The team is well put together in terms of characters. Everyone knows what they have to do here. "
… his record with three goals this season: "I attribute that to the fact that I'm a bit more offensive in our system – with a three-man or five-man chain – and that we often have breakthroughs outside of the box. We outside players should then be there. It always takes a bit of luck. But that Defenders of the opponent don't have you on the screen, because you are more likely to come from the back and the second post. I get into closing situations more often than in a back four. And in my youth I have more often in the attack or in the attack Played midfield, in my early days at Greuther Fürth also more often in left midfield. So I probably still have a bit of striker blood in me. That just comes up a bit. I feel very good, have self-confidence, am fit and in the process best football age. Perhaps the statistics on goals and assists make me a little more noticeable than usual. But I've played good games over the past few years. "
… his difficult first year at Union: "I also performed well in preparation last season. The coach then took on Lenzi (Christopher Lenz, who has been with Eintracht Frankfurt since the summer, d. Red.) decided. He then performed well. So it's normal that the coach doesn't change a lot. Of course I found it hard to accept that. I was not satisfied. But it was my goal to establish myself here. I'm an experienced player and I can give the team a lot. In terms of the system, we don't play it that much differently than in the previous season, but we get even more switching moments, so that we outside players often find ourselves in dangerous situations. That suits me and fits my style of play very well. I am currently getting the trust of the coaching team and am paying it back. "
I can imagine staying longer.

Niko Gießelmann on his contract, which ends in June
… his further development under trainer Urs Fischer: "My game has definitely changed. But that is also due to the fact that I was not so aggressively oriented in a five-man chain before. I fill this position quite well in the offensive area, I've developed offensively and defensively. And you've developed a feeling for the rooms in which you are moving. You are alone on your side, you have no player in front of you, you have a little more space and have to do a little more legwork. You get used to that. It's about reading the game that way that you notice when you can go forward. You always have to look what is happening with the remaining defense and that you have no opponent behind who is free. That goes ahead. But if you have the space, you have to follow the runs do in front. Our chain of three secures us well by pushing to the side. "
… the derby against Hertha in eleven days: "I've played a few derbies with Fürth and Düsseldorf. They always remain something special, no matter how many you've played. This will be my first Berlin derby in front of a crowd. It's something different than without a spectator. I'm really looking forward to it. They are hot, we're hot, well prepared and want to win in front of our own audience. The fans always come up with something. You can tell that it's something special. The most important thing is that it is fair Popping space, that's part of it. "
… the absence of Max Kruse: "He missed the last few games, which is a shame for us. I hope he comes back as soon as possible. But you saw that we can be very dangerous and score our goals even without Max."
… his future: "We'll see how it goes on. There will certainly be one or the other conversation. But of course I can imagine going even longer (than until June 30, 2022, d. Red.) to stay."

www.kicker.de