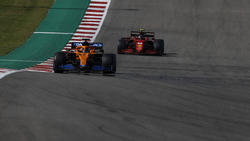 Just three Formula 1 races ago, McLaren was 17.5 points ahead of Ferrari in the championship table. But now not only this cushion, but also third place is gone. Thanks to an improved hybrid system, Scuderia managed to convert the deficit into a lead of 13.5 points.
Ferrari has outperformed McLaren in each of the last three Formula 1 Grand Prix – most recently last weekend in Mexico, where Charles Leclerc and Carlos Sainz finished fifth and sixth, while McLaren scored just one point through Lando Norris in tenth . His team-mate Daniel Ricciardo fell back after a collision with Valtteri Bottas on the first lap.
McLaren team boss Andreas Seidl emphasizes that the setback for McLaren is no reason to hang your head in the fight against Ferrari. Because difficult days could also happen the other way round: "The most important thing is to accept that days like these can occur in racing, they are part of the sport."
Seidl: "Big hit in the constructors' championship"
"At the same time, however, they can also happen to your competitor. So there is no reason to give up the fight. It is important to keep going. Fortunately there is another race next weekend and then we can try to fight back," said the German already on Brazil.
Of course, it is disappointing to have only scored one point in Mexico, "which is a big blow for the constructors' championship," says Seidl. "But the same thing can happen to our competitors. We just have to focus on ourselves and make sure we continue to score consistently."
The conditions in high altitude Mexico meant that the teams had to use their aerodynamic packages with high downforce, with Seidl acknowledging that McLaren was "behind Ferrari". He cannot say which of the remaining four tracks McLaren could do better than Ferrari.
Leclerc and Sainz: Will be "very tight" until the end
"There are so many factors that play a role here: temperatures, tire choice, the level of downforce and of course the track characteristics," says the McLaren team boss. "We have seen many times this year that it was difficult to predict and that it can turn out differently than everyone expected."
The two Ferrari drivers Leclerc and Sainz made a similar statement. They also believe that the battle for third place against McLaren will remain "very close" until the end of the season. "It will depend on which team makes the fewest mistakes, because we are very, very close together," said Leclerc.
"There may be races in which we are a little ahead and others in which they are a little ahead. But I don't think that will make the difference," he said. "I believe that whoever makes the fewest mistakes will win. Mexico was a good example of that. We took a big chance when both McLaren were pretty far behind."
In this context, Sainz emphasizes: "At Turn 1 Daniel was still ahead of us, that's a fact. Then there was this accident, but up to Turn 1 a McLaren was ahead of the two Ferraris. They have their strengths. They often have very good ones good starts and they have a car that is very good at high speed corners. "
"So as soon as we drive on tracks that are cheaper for them, like Monza or Sochi, where they were miles ahead, it becomes difficult to beat them. But the engine update has enabled us to keep up on every track and get a good one To fight so that we are ahead in the championship at the moment. "



www.sport.de