He's been in office for two weeks, and has three games and three wins behind him with VfL Wolfsburg. On Tuesday Florian Kohfeldt answered questions about his new job and also looked back to Bremen.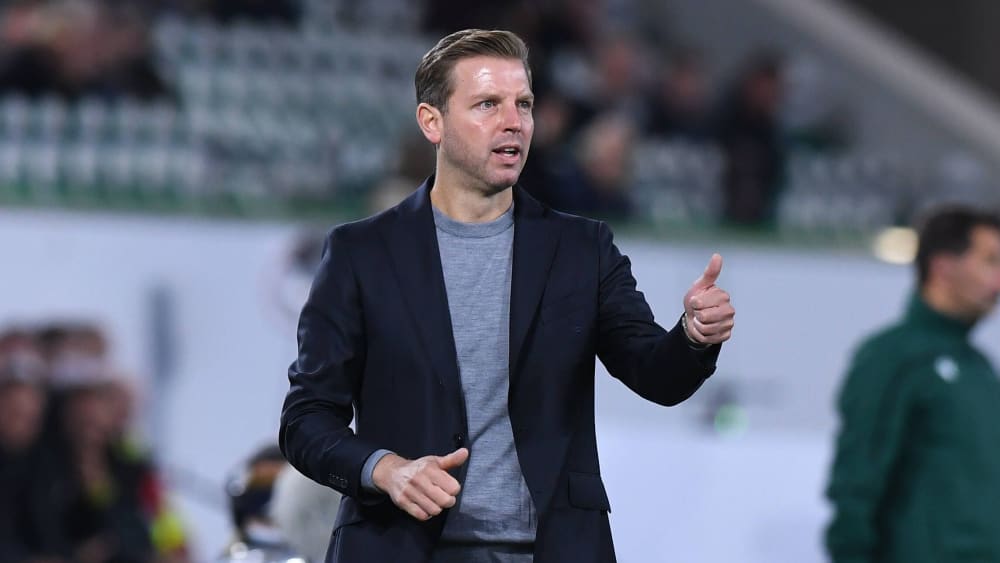 He was available to answer questions: Florian Kohfeldt.
imago images/Revierfoto
He took a good hour to spare, Florian Kohfeldt drank a cup of tea in the best Felix Magath manner. The new VfL coach can take a deep breath during the international break before he and his team will be challenged eight more times in the Champions League and Bundesliga by Christmas. On Tuesday, the 39-year-old spoke about …
… the decision for Wolfsburg: When Jörg Schmadtke's phone number, Florian Kohfeldt already had the contact on his smartphone, appeared on the display, the coach knew that it was going to start. After Mark van Bommel was released, VfL went looking for a coach and immediately rang Kohfeldt's doorbell. It took "two days and two nights" with those in charge of Wolfsburg, according to the football teacher, after which it was clear that he would be the new VfL coach. What immediately pleased him: Managing director Schmadtke and sports director Marcel Schäfer picked him up from the holiday home in Fuerteventura at night from the airport and did not send a driver, which is not unusual. Kohfeldt felt this to be an enormous "appreciation".
… Jörg Schmadtke: The relationship between managers and coaches is discussed again and again, but in his career Schmadtke demonstrated what he always preaches: he is not a "coach killer". But especially in Wolfsburg, the memories of his complicated relationship with Bruno Labbadia and Oliver Glasner are still fresh. But Kohfeldt is not worried in this regard. "I have always found Jörg to be very warm, and I liked his sometimes dry manner. He has a quality that is very good for a coach: he usually works with his coaches for a long time."
I don't want to be someone who only stands for one type of football.
It is also important for him, who still describes himself as a "young coach", "that there is someone who does not panic at the first problem". Schmadtke is someone, according to Kohfeldt, "who is very strong in terms of content and would like to exchange ideas. And still give the coach the freedom to make the decision." Kohfeldt wants to use the expertise of the 57-year-old for himself: "I would be crazy if I didn't incorporate the experience of such a successful manager. I appreciate the exchange and look for it too."
… his coaching team: It is rather unusual these days for a coach to join a new club without his team. But this is the case with Kohfeldt – at least for now. "There are several reasons for this," he explains, who still maintains a good exchange with his team from the Bremen era. "We have worked together trustingly for many years, and I have a close and good relationship with each of them." He and Tim Borowski in particular, "we can very well imagine continuing to work together in the future."
However: First of all, it made sense for the new coach to start on his own at VfL, especially since he is not alone. With Michael Frontzeck, whom Kohfeldt has known for a long time, and Vincent Heilmann, there are two assistants, and Pascal Formann, a proven goalkeeping coach, is part of the team. "The quality of the employees is extremely high. And I wanted to make it clear from the start that there is no team in a team." But it is not ruled out forever "that we will change again".
… his game idea: In the past few months under van Bommel there has been a lot of talk about ideas. It was about possession, dominance, short passes – which in the end all too often went nowhere. "I don't want to be someone who only stands for one type of football," says Kohfeldt, "I think football needs a balance." For him, who had to say goodbye to part of the desired ball possession and offensive football in the relegation battle in Bremen, one aspect was crucial: "I want to play extremely aggressive and extremely fast-paced football in both directions. I think VfL is a good fit with its basic idea to me." The game with the ball will continue to be developed over the next few weeks and months, the recently lost but still existing basis of intensive defense "but we will never give it away".
… Werder Bremen: One match day before relegation Kohfeldt had to say goodbye last May. Now, for the first time, he is looking at his club from a distance, for which he has worked in various roles for around 20 years. "I'm definitely following Bremen, looking at the results." He does not presume to assess the Werder situation in the second division, "that is not my place". But: "I keep my fingers crossed that I have. I'm really looking forward to the day when Werder Bremen will play the first division again."

www.kicker.de