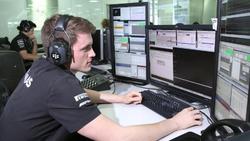 Whenever Lewis Hamilton or Valtteri Bottas celebrate a success in Formula 1, both drivers never tire of appreciating the collective team effort of all Mercedes employees. Her hymns of praise can be heard over and over again, but that doesn't make her less meaningful or heartfelt.
Even if the number of employees who are on site on the race weekends is limited, the employees at the base in Brackley play an equally elementary role. A large part of the important work outside of the race track is done in the so-called Race Support Room (RSR) of Mercedes.
From here, the data is evaluated and the analyzes completed in order to make strategic decisions that can make the difference between victory and defeat.
The colleagues from "Motorsport.com" had the rare opportunity to look behind the scenes of the Mercedes factory at the US Grand Prix a few weeks ago and to accompany the men and women in the RSR during the final training and qualifying on Saturday.
One of the largest and perhaps most surprising parts of the RSR is made up of university students who voluntarily work on racing weekends as part of their internships with the Mercedes Formula 1 team. You are either in the second and third or in the third and fourth year of study and come from various fields such as computer science, physics, aerodynamics and mathematics.
The students have the opportunity to gain live experience as part of the racing team, for example by transcribing publicly available radio messages from other teams or analyzing videos from the World Feed and capturing interesting information or things they have noticed as screenshots.
More manpower: "You have to have ears everywhere"
For Mercedes, this ensures that all areas are covered and the additional resources are used to hear everything and see everything.
"When you literally listen to 20 cars talking, you have to have your ears everywhere to watch all the TV broadcasts and not miss anything," knows Dom Riefstahl, head of the racing support team and test engineer at Mercedes.
"It's just about having that manpower. You can listen to the meetings, debriefings and all car-related discussions. You are basically sacrificing your free time. On Fridays you have to get the OK from your boss to come and help . On Saturdays and Sundays they sacrifice their free time. "
The open manner with which Mercedes approaches the matter also means that the interns can raise issues or make suggestions themselves. "If you have an opinion on something, you are welcome to express it," emphasizes Riefstahl.
"It's been very, very rare," he reveals, "but occasionally we'd have a question or a line, or someone would say, 'Did anyone see that?' and then someone might say, 'Yeah, I have the video and I'll send it around.' "
This way of working also helps promote the next generation of Formula 1 strategists and engineers. It is no coincidence that Mercedes team boss Toto Wolff has often noticed that the plant in Brackley now feels more and more like a university campus.
Win-win situation: Mercedes and students benefit
The morning before the race, Riefstahl holds a "Racing 101" session with the students, where there are no stupid questions and they can ask any questions they have. "It encourages their passion for racing. It's very informal. You can ask all the things they really want to know and you can really see that this gets the juices flowing."
The head of the race support team knows: "The work at the RSR is tough, I can't deny that. You are really very busy during the session. But I think the opportunity to be at all of the meetings is really thanks for the work is that they put in and they really feel involved. "
Their involvement also leads to a real sense of collective accomplishment on successful weekends for Mercedes, especially when analyzing a large amount of information can help make critical strategic decisions.
"If it's a weekend where strategy was critical, and we know that strategy has been dominated by what we've heard from other teams' plans, and we've responded to that and reacted correctly, then you know yes, what I did was really important, "says Riefstahl.
"In a race like Sochi, where the rain comes at a certain point, it's very important to have all the information about what people think about the tires. That's when they realize, 'Yes, it makes a difference and I have an impact on the race weekend. '"
"I can imagine that for someone who is only doing an internship in a company, it is quite unusual to say, 'I actually played a role in winning this race,'" concludes Riefstahl.



www.sport.de