At FC Schalke 04, after three bankruptcies, there was renewed unrest within twelve days. The criticism of coach Dimitrios Grammozis is getting louder again, but those responsible still hold on to the German-Greek. But how much longer?
Dimitrios Grammozis has already overtaken his predecessor. Manuel Baum and Christian Gross were only allowed to train FC Schalke for three months each, the current coach has been in office for eight months. The 43-year-old gets caught in the crossfire again and again – despite the striking distance to the promotion places in the 2nd Bundesliga.
The embarrassing cup knockout at third division 1860 Munich and the last-minute bankruptcy at 1. FC Heidenheim had already exacerbated the debate about Grammozis, which had died down before, when his ex-club Darmstadt 98 hit Gelsenkirchen and made things even worse.
On Sunday, confused Schalke lost despite the lead 2: 4 (1: 2) to form strong Lilien and missed the return to third place due to the third competitive game defeat in a row.
---
---
S04 sports director Rouven Schröder initially denied rumors of a possible change of coach. "No. We will stand together and not nervous," emphasized the functionary at "Sky", but announced at the same time: "We will call things by their name. We have the quality to win games – if we rectify our mistakes."
Grammozis was also combative. "We're still in an area where we would have said before the season: 'That's good, we're in,'" said the trainer.
FC Schalke 04: Grammozis gambled away several times
Nonetheless: The doubts about Grammozis are back – because of his personnel decisions, his tactics and his overly positive analyzes.
He takes "especially the criticism of the fans to heart," said the ex-professional last Friday. He doesn't want to appear as if "everything is missing his backside": But there "is no point in crying. Schalke naturally want to" win every game ", but it is also clear that you are not" marching through the league ".
In fact, Schalke still seemed on track a few weeks ago, four victories in a row suddenly made the long-suffering fans dream of being promoted again. Unlike the co-favorites for promotion, the trend was up – the top of the table came within reach.
But Grammozis gambled away at 1-0 in Munich when he gave the best players a break, but did not want to take the blame on his cap afterwards.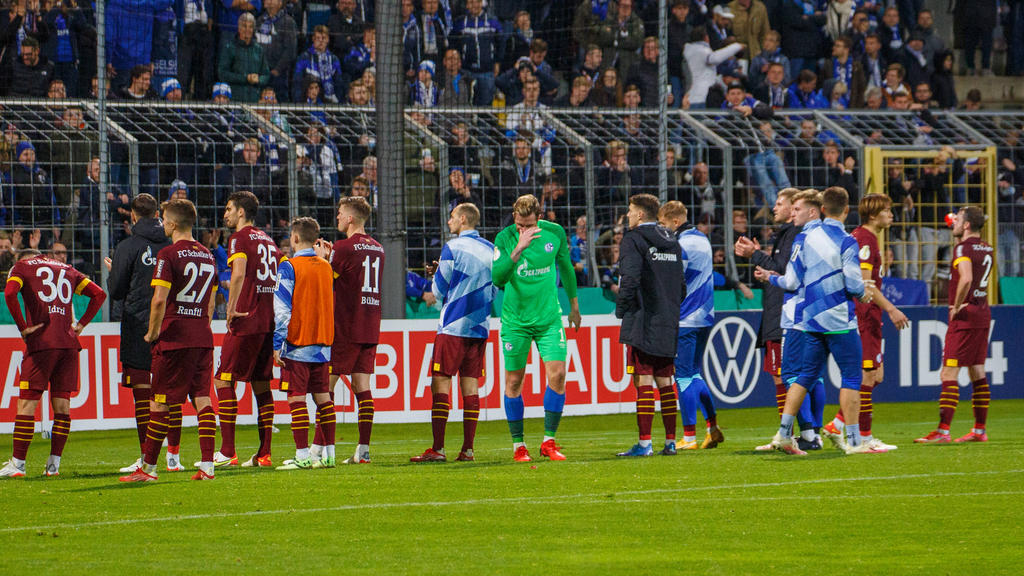 In the DFB Cup, Schalke made a fool of itself against 1860 Munich
In the weak performance in Heidenheim without a real chance to score, Grammozis only changed once before the late 0: 1 – and then talked about the performance. Apparently Schröder didn't like that either. "We always have to remain so critical of each other that we challenge each other," said the sports director.
Grammozis is once again under pressure and under special observation – also because striker Simon Terodde suddenly no longer scores: The 33-year-old has been waiting for a sense of achievement for five encounters.
Schalke's supervisory board had doubts about Grammozis in the summer
Grammozis had only taken over Schalke at the beginning of March – as the fifth coach of the disaster season, who could no longer prevent relegation.
Several members of the supervisory board then expressed doubts about continued employment, Schröder even asked Steffen Baumgart in the summer, but he moved to 1. FC Köln.
As "Sky"Recently reported, Schalke will" definitely "continue to discuss Grammozis. The crucial question is whether the miners have" money and alternatives "at all.
A name that keeps coming up is Domenico Tedesco. The 36-year-old is still very popular with Schalke supporters and is currently without a club after his last engagement with Spartak Moscow. Financially, a return campaign is unlikely to be manageable.
An alternative is the ex-BVB junior coach Daniel Farke, who was recently dismissed in Norwich.
Rock-hard program for FC Schalke
Grammozis is not gone yet – and after rather easy opponents in the past few weeks with S04 is now facing real touchstones: After the international break, Werder Bremen, front runners FC St. Pauli, 1. FC Nürnberg and HSV are the opponents.

Then it could already be decided whether Schalke really has a chance of a quick return to the Bundesliga – and Grammozis a future in Gelsenkirchen.
At least there is hope that the royal blue cabin should still be behind the coach, according to "Bild". The professionals therefore appreciate the close exchange with the German-Greek, who, for example, consults with the leading players about training times.
However, should Grammozis lose the support of his team, his days at Schalke should finally be numbered.
Heiko Lütkehus (with "AFP" material)



www.sport.de