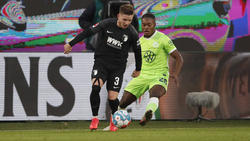 Every week Comunio and sport.de present you a Bundesliga player who is still under the radar and from whom a significant increase in market value can be expected shortly – today with Augsburg's left-back Mads Pedersen.
The current Comunio stats
Market value: 1.450.000
Points: 16
Points per game: 1,45
That is why Pedersen is underestimated
Mads Pedersen is now playing for FC Augsburg in the third year and he has never really been well received. In the first year he was awarded to FC Zurich due to a lack of prospects. He returned in 2020/21, but was the clear backup player on the left defensive behind Iago.
The fact that we advertised Iago in this category in September also shows that we did not think Mads Pedersen could be a regular. For a long time the Dane was available for a million or less. Only now does his share rise – slowly but surely.
That is what makes Pedersen so strong
Believe it or not: Pedersen has played in all eleven Bundesliga games this season, five times in the starting line-up. However, these five starting XI appearances took place in the last six match days and the point yield has been increasing since then. Pedersen had only one point collected after the 6th matchday (and all six games were evaluated), he came to 15 points between matchday 7 and 11. A trend that is clearly pointing upwards.
And it doesn't really matter whether Augsburg loses, like in the 1: 2 against Dortmund, where he took four points. Pedersen has been scoring consistently for weeks. A perfect example is the game on the previous 11th matchday in Augsburg's 0-1 defeat against Wolfsburg. With five points, he got his best result of the season and was also the best Augsburg player in this game.
Responsible for this is primarily his offensive urge: Pedersen made six passes to a shot within 90 minutes – the best score on the pitch. He also won a good 52 percent of his 21 tackles, hit the most crosses (3) and was the second most on the ball at Augsburg (64 times). All in all, that's enough for an above-average sofa score for a defender.
And in the previous week against Stuttgart, Pedersen, who among other things also shoots corners, was able to contribute four goal shots, even achieved a duel rate of 67 percent and accelerated up to 33.6 km / h.
Pedersen has this potential
For many, Pedersen may still be an Iago backup who is currently failing with a hand injury. But the duel is now at least at eye level. The well-informed "Augsburger Allgemeine" even wants to know that Pedersen is ahead of the game, even if the Brazilian returns.
But Pedersen also has the advantage that it can be used flexibly. The 25-year-old has already played in the back four, in the left midfield and even in the headquarters at Augsburg this season. One thing is certain: The very low market value is currently considerable and should grow again by the end of the international break.
Karol Herrmann



www.sport.de