When Nissan launched the Qashqai in 2007, they were surprised by the success of the then still unusual crossover concept. The model with the unusual name developed into the mainstay in the program, 60 percent of sales are today due to his account. The third Qashqai generation has been on the road since this year, diesel-free, but with an electrified mild hybrid drive. In the driving report: The top model with all-wheel drive, automatic and 158 hp machine.
How he looks: Nissan – don't they come from Japan? That's right. But: The Qashqai is at least geographically a genuine European. It rolls off the assembly line in Sunderland, UK, the technology was developed in Cranfield, and the Nissan design studio in London is responsible for the styling. The crossover typology places the Qashqai in a densely populated market segment, where it meets VW Tiguan, Seat Ateca, Skoda Karoq, Hyundai Tucson and its French technology brother Renault Kadjar, with whom it shares the CMF-C platform . All of them latecomers, because we don't want to contradict Nissan's prideful hint that the first Qashqai was also the first SUV crossover 14 years ago.
Qashqai, the third one, has been around since this summer. It looks more masculine than its predecessor and is more well-proportioned, the radiator grille is framed by a double chrome clasp, and the lighting design is reduced to a sporty, narrow bar.
At this point we don't want to fail to clarify the origin of the peculiar name: It refers – for whatever reason – to the Kashgai, a nomadic people living in Iran.
How it is set up: Modern and at the same time functional and elegant. Our test car corresponded to the top equipment level Tekna +, which, in addition to massage seats with chic stitched leather covers (between which a central airbag sits), also makes a Bose premium sound system and a panoramic glass roof in XL format its own.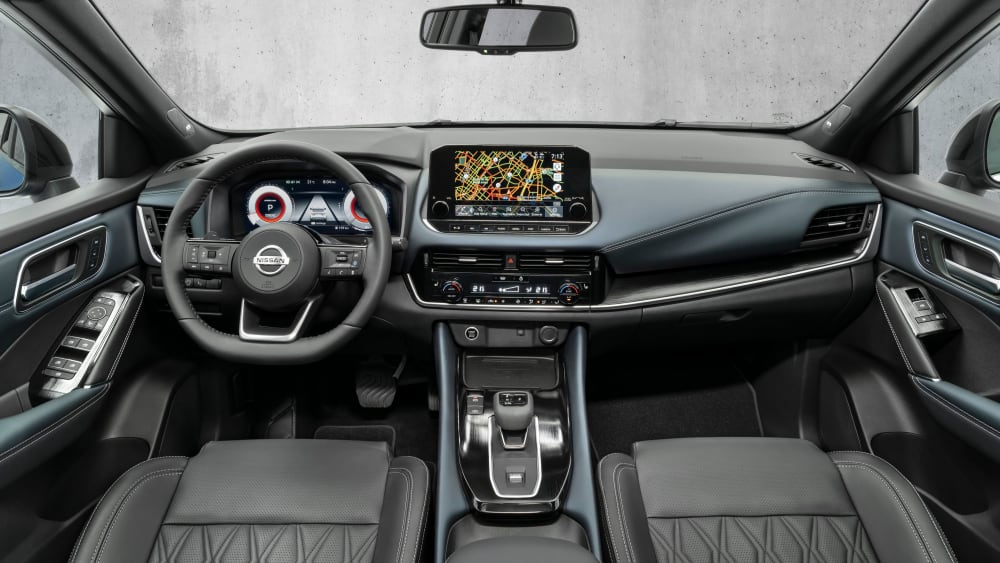 Qashqai cockpit: You can also turn and press here.
Manufacturer
Fortunately, Nissan has not followed the wrong path of other manufacturers to digitize all controls and hide them in a touchscreen. There is such a touch-sensitive screen on board, the new infotainment is dedicated to lightning-fast thinking and a logically structured menu navigation, cameras send a helpful 360-degree image to the monitor when maneuvering. At the same time, however, you can still press buttons and turn buttons in the classic way, which is particularly worthy of recognition because of the reduced distraction potential. The now mandatory digital driver's instrument also brings the Qashqai into focus, and depending on the equipment, a great 10.8-inch head-up display projects the most important information onto the road.
Depending on the equipment, there is also a WiFi hotspot for up to seven mobile devices, and the voice assistants Google Assistant and Amazon Alexa are ready to use.
How much space it has: There is room for five passengers in the Qashqai. In the segment, it is clear that the front is comfortable and easy to travel. The back room offers a decent amount of head and knee room, it is not outstanding. The trunk also remains rather manageable. It takes 406 to 479 liters, with the rear seat backs folded down the volume increases to up to 1422 liters. In addition to the double loading floor, the two "Flexiboards", which can be used variably and also upright, make a meaningful contribution to charging management.
What drives him: A 1.3-liter four-cylinder petrol engine with 116 kW / 158 PS and a 12-volt mild hybrid system including an integrated starter generator. It cannot be driven purely electrically with it. The small lithium-ion battery stores the braking energy gained during deceleration, so the gasoline engine receives a certain amount of electrical support when accelerating, and the system also helps to save fuel.
The 158 PS machine always cooperates with a continuously variable CVT transmission, this automatic is called Xtronic in Nissan parlance. In the all-wheel drive model in particular, it distributes the drive forces intelligently and as required between the front and rear axles. Various programs from standard to eco to sport, snow and off-road can also be selected using the round driving mode controller on the center console.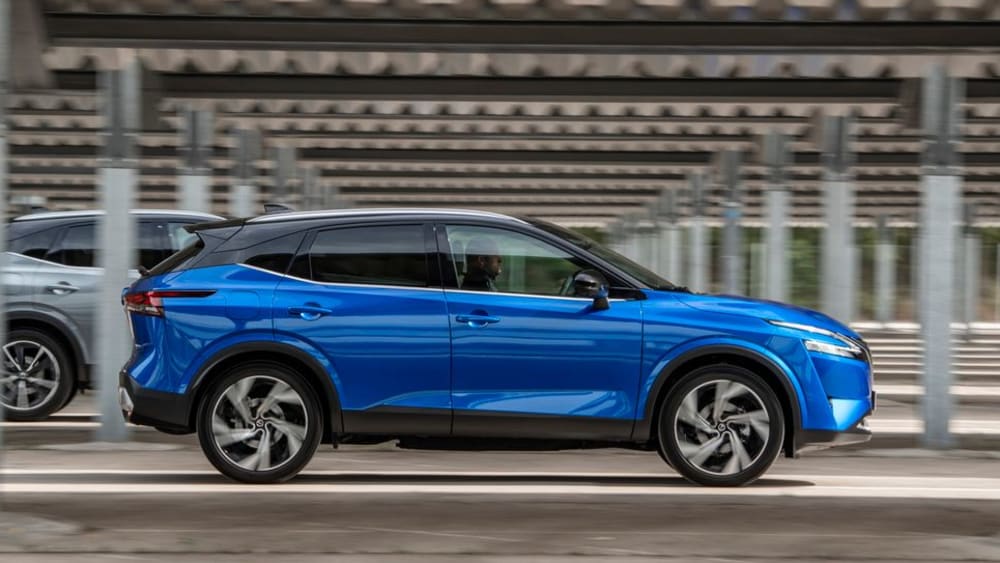 Electrified: The drive is a 12-volt mild hybrid system.
Manufacturer
Those who can do without the 4WD technology also get the Qashqai as a mere front-wheel drive, the price difference is 2000 euros. It saves another 2000 euros to order the version with manual six-speed gearshift.
The smaller version of the 1.3 DIG-T mild hybrid, which is limited to 103 kW / 140 PS, drives only with front-wheel drive and manual transmission. The customer cannot order a diesel, the Qashqai has run out of diesel.
How it drives: In terms of driving technology, the Qashqai does what is expected of a crossover – it delivers a sovereign and unexcited form of locomotion, revs up hard and thanks to the electrical support, there is no turbo lag to be noticed. According to the requirement profile, the fact that things are not going explosively is of secondary importance; a top speed of 198 km / h is always sufficient. The steering works smoothly and directly, the Xtronic surprised us positively insofar as it changes the simulated gears quickly and without jerking, and the Nissan engineers have muted the unattractive roar of the engine that is often associated with this type of transmission.
The suspension set-up is also good, the Nissan crossover is pleasantly manageable and agile, it should only cope with frost patches and similar impairments a little more smoothly. The adaptive speed and distance assistant works reliably with its semi-autonomous driving functions, and a cross-traffic warning or a predictive emergency brake assistant are also among the electronic helpers.
What he consumes: If you chase it away, the Qashqai can swallow more than 9 l / 100 km. Our test consumption leveled off at the more frugal – if not famous – 7.4 l / 100 km.
What it offers: The prerequisite for the combination of Xtronic and 158 hp is the third of five equipment variants. It's called N-Connecta and already includes a lot – GPS, reversing camera, smartphone connection (Apple CarPlay wireless), around-view monitor with 360-degree all-round visibility and 18-inch alloy wheels, for example.
On a big foot: the Qashqai with a renowned 20-inch model.
Manufacturer
What it costs: With all-wheel drive from 38,510 euros. Our almost fully equipped test car in the top version Tekna + came to 47,170 euros.
What we mean: In the third generation, the Nissan Qashqai is recommended as a mature crossover with a modern, intuitively functioning operating concept and a successful mild hybrid drive, which does not, however, set any savings records.
A particularly interesting engine will follow in the second quarter of 2022. The e-Power works with a 1.5-liter three-cylinder turbo gasoline engine, which in turn generates electricity for a 140 kW / 190 PS electric motor. Honda, for example, is pursuing a similar approach with the HR-V and Jazz. The first Nissan Ariya will also be delivered in 2022, which will then mark the purely electric alternative to the Qashqai.
Ulla Ellmer
The data of the Nissan Qashqai 1.D DIG-T Mild-Hybrid Xtronic 4WD
Displacement 1332 ccm, cylinder 4, power 116 kW/158 PS bei 5500/min, Max. Torque 270 Nm bei 1800-3750/min, top 198 km/h, acceleration 0 to 100 km / h in 9.9 seconds, Standard consumption urban 7.3, extra urban 5.5, combined 6.2 l S per 100 km, Test consumption 7,4 l S/100 km, CO2-Emission 140 g/km, Emission class Euro 6d-ISC-FCM, Energy efficiency class B, Long 4,43 m, broad 1.84 m without, 2.08 m with exterior mirrors, height 1,63 m, Trunk 436 – 1422 l, Fuel tank 55 l, Empty weight 1577 – 1645 kg, maximum weight allowed 2040 kg, Payload 395 – 436 kg, Trailer load 1800 kg (braked), 750 kg (unbraked). Continuously variable CVT transmission (Xtronic), all-wheel drive. Insurance type classes 14 (KH), 21 (VK), 23 (TK). price from 38,510 euros.

www.kicker.de