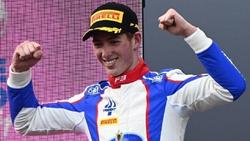 With David Schumacher, David Beckmann and Lirim Zendeli, the three biggest German formula hopes will face the DTM Young Driver test of the Mercedes-AMG racing teams in Le Castellet on Wednesday and Thursday with Hubert Haupt's team. The aim is to find out whether one of the drivers is eligible for a possible third HRT car in the 2022 DTM season.
But how interesting is the DTM for the three German contenders and the British Formula 2 driver Jake Hughes, who is also racing at HRT?
"Such a test only makes sense if you really think about it," said HRT-Mercedes managing director Ulrich Fritz in an interview with "Motorsport-Total.com", referring to races in 2022.
"Got more and more inquiries"
"We noticed this year in the DTM that the platform has suddenly become attractive for Formula 2 or Formula 3 drivers who have discovered for themselves: Maybe Formula 1 will not work – or at the moment nothing. Because there are also detours, as you have seen with Liam Lawson, "says Fritz, referring to the Red Bull hope, which, in addition to Formula 2, made a name for itself in the DTM and continues to have Formula 1 in its sights.
In the end they "got more and more inquiries" and then decided to give a few young drivers a chance, even if a GT3 car differs significantly from the Formula car in contrast to the earlier Class 1 cars in the DTM.
"The drivers are of course used to 400 to 700 hp, depending on whether Formula 3 or Formula 2, but the car is at least 400 to 500 kilos lighter and has no roof," says the HRT managing director of the biggest differences. "And they don't know any driving aids either. That's why it gets interesting. In the end, you have to say yourself what comes into question for you."
This is how David Schumacher's DTM test came about
How does Fritz assess the future prospects of the four drivers who will now be competing in the Young Driver Test in the Mercedes-AMG GT3? "David is now a try," said Fritz about David Schumacher, who in 2021 scored his first victory in his second Formula 3 season after moving from Charouz to Trident. "He has not yet been in Formula 2. Maybe it is still an option for him to do Formula 2."
How did it come about that, according to the plan, the 20-year-old will be in Vincent Abril's DTM racing car on Thursday? "I think it originally came from AMG, but I know Ralf very well from our time together in the DTM," says Fritz, pointing out that father and ex-Formula 1 winner Ralf Schumacher worked for Mercedes in the DTM from 2008 to 2012 started.
"We were always in contact, also on the subject of whether David might be in the Formula 3 cockpit at HWA. That just developed."
Breadless formula route: high costs, no medial equivalent
For Jake Hughes, who has been driving Formula 3 since 2016 and contested five Formula 2 races for HWA in 2020 and 2021, as for Schumacher, Formula 2 is still an option. "Either he will get a competitive cockpit next year in Formula 2 or in Formula E, where he is on the road a lot – or the DTM is an alternative."
At Beckmann and Zendeli, who were promoted to Formula 2 in 2021, the formula career is over, Fritz believes. "Both of them have shown in the past that they can really drive a car, but you just can't get the money together because it's more or less closed to the public," says Fritz, seeing a financial imbalance in formula racing.
The fact is that a Formula 2 season in a top team costs up to 2.5 million euros per year, while a Formula 3 top team already charges 1.5 million euros. "The sport has simply become extremely expensive – and you have no media equivalent," Fritz alludes to the fact that there is hardly any coverage of the youth series.
Fritz no longer sees Beckmann and Zendeli in formula racing
"Then it is difficult to find proper partners to finance such a program. Against this background, I believe that at least the youngsters' formula path is over for them I don't have to say, but I think it's going in the direction of the DTM – or it will be something completely different. Of course, the DTM is already attractive, because both are German. "
A DTM season costs around one million euros per driver per year – and the media presence, at least in German-speaking countries, is significantly greater than in the youngsters' formula series thanks to the TV contract with Sat.1 and ProSieben in the future.
Many drivers who had previously driven in other GT3 series and were not used to the numerous press appointments became aware that the media interest in the DTM is still great after the switch to GT3 cars.



www.sport.de