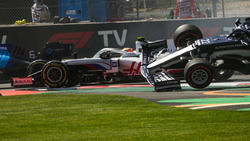 For Mick Schumacher (Haas), the Mexican Grand Prix was over before it really started. After Mercedes driver Valtteri Bottas spun in Turn 1, the Formula 1 rookie was involved in a subsequent crash which forced him to give up prematurely after only a few meters of driving.
"The start was mediocre. It's a shame that we didn't get any further forward. In the end, it was tight in the first corner with Bottas, who spun in front. He made the route halfway shorter. And three cars just don't fit, "he says of the situation in which Esteban Ocon and Yuki Tsunoda were also involved.
While Ocon could continue, the race was over for Tsunoda and Schumacher. "Something like that happens, it's a shame that it happened here. I was really looking forward to the race, to learn and see what we still have to learn for next year. But now we have to look ahead to Brazil," he said Haas pilot.
Schumacher and Co .: Was an unfortunate racing accident
Could he have reacted differently? "There would always be a chance. But there are fractions of a second where you have to decide," says the rookie. "Fernando (Alonso; editor's note) was also in front and is in the direction, then somehow we are all synchronized in the middle at the same time. An accident like that in the first lap just happens."
He sees no direct guilt in any of those involved. Ocon also rates the three-way collision as unfortunate: "Bottas was the trigger, if you will. Then Fernando came closer on the right side. That of course drove Mick to me. And then there was Yuki, who didn't have much space", explains the Alpine pilot.
"So there isn't much more I could have done on my side. Yes, I'm sorry we collided that way. But there was nothing I could have done. Three cars on the same corner, that never really works. That's the way it is, but when I look at it all again, I don't think we would all have made it if we had done something differently. "
Schumacher's first race retirement due to a collision
Tsunoda made a very similar statement. "It's just unfortunate, the car next to me got jammed and then I was hit," recaps the AlphaTauri rookie. "Overall, this race week was really good because the car's performance was strong, so it is very disappointing not to finish the race."
Despite the early failure, Schumacher wants to try to learn his lessons from it: "I watch the race, see that I can learn as much as possible and then perhaps analyze again what we could have done differently. And just understand a bit better the whole situation. "
---
---
After all, the starting crash for the Formula 1 rookie was also an involuntary premiere – and only the second retirement this season. In Sochi he had to park his car prematurely after technical problems. "It is the first time under these circumstances," says Haas team boss Günther Steiner.
Haas team boss Steiner: Have enough spare parts with you
"It's not a nice experience. But it's something you have to do at some point when you're driving in Formula 1," he continues. Now it caught Schumacher, who broke the rear suspension, but of all things at the beginning of a triple header and thus an extremely unfavorable time for damage to the car.
But Steiner reassured: "It's never a good time for an accident. But I think we have all the spare parts we need with us. Because there are only four races left. You wouldn't have enough time to produce something new to get it in time. So we have everything with us. We just have to weigh what we actually need to change. But I think it's not half bad. "



www.sport.de