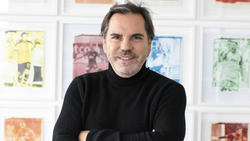 Volker Struth is considered one of the most influential player advisors in football. Among other things, he works with the German national players Niklas Süle, Timo Werner and Toni Kroos. In an interview with his colleagues from "stern" he talked about his new book. How his ascent to top consultant worked, which transfer had a particularly violent crash and which trait Struth does not like at all.
It was Reiner Calmund who once advised Volker Struth to become a player's agent: "He said he had already met a lot of agents. But with my qualities – speaking, selling, doing – I was exactly the right man for it."
Back then, in the summer of 2007, Struth was working as an entrepreneur, selling office supplies, German flags and organizing folk festivals. Within four years he became Germany's most successful player consultant.
"Without a certain audacity, I would not be where I am today," said Struth in an interview with the "stern". He traces his ambition back to his precarious childhood in Pulheim near Cologne: "I wanted to get out of this life." He gave everything for that. However, he says, "I still can't stop being yelled at."
Struth had trouble with BVB sports director Zorc
Basically, he doesn't think screaming is a good way to get there, says Struth. He had the most violent row as a player agent with Michael Zorc: "When I told him that we would pull the clause and Götze would go. He threw everything at me at my head. There were words in it …"
Struth vehemently defends himself against allegations that player agents like himself are the black sheep of the football world: "My job is first of all that my players play football in the right place at the right time." The clubs shouldn't be underestimated either: "They usually already know very well what they're doing. They paint the wrong picture from the outside."
About his relationship with Mario Götze, Struth tells how he was deeply affected by his departure from his agency: "It always hurts me to leave. After Mario Götze and I broke up, I was put in a corner for two weeks. The boy was been part of my life! " On the other hand, he is repulsed by the wealth shown by footballers: "Decadence makes me throw up."
With his success, Struth explains why he has such a bad image even among player agents: "You don't make friends with it, they say a lot of crap about me." But he doesn't put suitcases with money on the table in advance, neither with very young talents nor with parents of footballers: "It won't happen with me."
You can read the whole story in the book Volker Struth: "Meine Spielzüge – From the coal settlement to the most successful player advisor in Germany" published by Piper-Verlag. ISBN 3492070965.
Stephan Seiler



www.sport.de