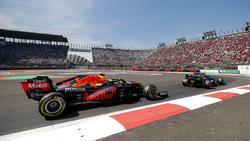 Despite Max Verstappen's victory, Red Bull was not 100 percent satisfied on Sunday in Mexico. Although the defeat of qualifying could be straightened out again, the one-two victory announced by Helmut Marko before the weekend did not come close in the end.
Lewis Hamilton was able to cling to second place in the final sprint ahead of Sergio Pérez and thus keep the deficit in the world championship within reasonable limits. The Mexican audience had once again whipped their local heroes in the final phase to grab second place.
"I gave everything," said the Mexican after the race. "I could hear the fans, it was unbelievable. I really wanted a one-two for the team. It was very close, but I had no chance to overtake him."
It was clear early on that Sergio Pérez would come on the podium at the home game today. Because after Valtteri Bottas spun in the first corner, a candidate for a podium was already gone.
A chance for the undercut
The fact that his teammate could not help him also put Hamilton in a mess. He couldn't follow Max Verstappen, and with the approaching Pérez, Red Bull had tactical advantages on his side. "That made the race more difficult, of course. Because they had a car in front and one behind, they could play with the strategy," says Hamilton.
Pérez stayed with Hamilton in the first stint and was up to 1.6 seconds behind the Mercedes. This forced Hamilton to stop early after 29 laps to defend himself against an undercut. "Either they would have done the undercut or we would," says the world champion. "So we came in."
The tactic confirms Pérez: "There was one round in which we could have done the undercut, but they came in there and we did the opposite and stayed out longer," said the Mexican. Red Bull then went on a long stint.
It wasn't until eleven laps later that Pérez was called into the pits to change tires. Although he was then around nine seconds behind Hamilton, he gradually caught up on fresh tires. Second after second, he nibbled and finally was even in the DRS area. Hamilton himself was not worried at the time: "I'm used to pressure, that wasn't the problem," he waves him away.
Would Pérez have helped one more round?
Dare to make a real attack, but Pérez could not. The numerous lapped drivers, who also gave Hamilton some slipstream, were also of little help. Perez couldn't drive close behind Hamilton for a long time and had to tear something down first.
In the last two laps, however, Pérez came up again, while Hamilton was penalized for the early stop. "In the last few laps my tires went down on their knees," he says. "But where there's a will, there's a way. We were able to keep it behind us."
In the end he crossed the finish line with a lead of 1.2 seconds and believes: "One more lap and it would have been over. I am happy that I finished second." You can also hear that from the Red Bull camp: "Pérez attacked too late, I think he would have had Hamilton in a lap or two," says motorsport consultant Helmut Marko.
"Had the pace to be first and second"
And so you had to be content with places one and three at Red Bull – not quite to the taste of the Austrian: "We have to keep the distance to Mercedes," he says, a little annoyed. Because if Pérez had overtaken Hamilton, Verstappen's lead in the championship would have been 22 instead of 19 points.
"I didn't really have a chance. Overtaking is really difficult with your speed on the straights. They are strong there," Pérez realizes. "It's a shame because we had the pace to finish first and second."
Nevertheless, the Mexican was able to celebrate an acclaimed podium at the home game in the end. "He drove a great race", praised team principal Christian Horner. "He's found his form in the past few races and that gives us a few more opportunities." Helmut Marko is certain: "Today there will be a lot of tequila."
And Hamilton? He is happy that he was able to at least limit the damage this Sunday. "I'm just grateful that I was able to stay between them and get as many points as possible for the team," he says and announces: "We'll keep fighting."



www.sport.de