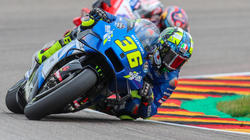 Suzuki spearhead Joan Mir showed what might be the best weekend of the 2021 MotoGP season at the Algarve Grand Prix in Portimao. In qualifying, the 2020 world champion qualified for a front row position for the first time in his career.
In the first corner, Mir positioned himself behind the two Ducati drivers Francesco Bagnaia and Jack Miller. In the first lap he grabbed Miller's second place and hunted Bagnaia. But it didn't work with one attack.
Bagnaia kept Mir at a distance and finally had two and a half seconds ahead. "'Pecco' was better than me and was able to drive more effectively," says Mir about the "long-distance duel" between the two for victory. "In order to be able to drive this pace, I made more mistakes than him."
I haven't completed a single lap in the lead in the entire season. There was no chance this time either. "'Pecco' didn't make a single mistake. I've been waiting for that the whole race, but it didn't come."
Nevertheless, the Spaniard was happy with second place. It was his sixth podium this year. In addition, one race before the end of the season has already been determined to be third in the World Championship. Miller is 30 points behind and can no longer overtake him.
Portimao gives hope for more
"I am very happy with this podium," said Mir happily. "It's not just about the result, it's about the entire weekend. It was unbelievable! I felt good from the first moment and was competitive from the first practice session. Then everything will be a lot easier."
"It took me such a weekend. The weather was normal and I was able to do many laps in good conditions. Thanks to the team for giving me a package with which I could fight for pole position and victory."
On Friday, Mir admitted that he had felt drained after the last difficult race. After Portimao, he also took a break from training in order to find peace and also to recover mentally. That was the right step.
Optimism for Valencia
Suzuki also worked on the ride height system for the rear shock. In Portimao, the system is said to have worked much better for both drivers than the first version a few months ago. Alex Rins finished eighth.
"Suzuki realized the situation in the middle of the season. You work hard in Japan," Mir praised his employer. "Usually what they bring works, so I'm looking forward to the Jerez test." Because it is important to lay the foundation for the next year.
Before that, the season finale in Valencia is on the program. Last year Mir won his first and so far only MotoGP race there. In the second Valencia race, he decided the World Cup for himself.
"I'm very optimistic," said Mir, looking ahead to the season finale next weekend. "Normally I'm strong there. Our package looks a little better now than it did in the middle of the season. I think I can fight for a good result."



www.sport.de