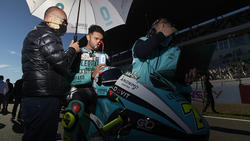 Petronas rider Darryn Binder's maneuver on the last lap of the Moto3 race at the Algarve Grand Prix created a lot to talk about. Binder brought down World Cup contender Dennis Foggia and thus decided the championship in the smallest class prematurely.
KTM driver Pedro Acosta took the title with a win. After the race, a number of MotoGP riders commented extensively on Binder's action. In winter, Binder changes from Moto3 to the premier class.
Dennis Foggia showed a strong race in Portimao and led the leading group for many laps. "I'm so disappointed," said the Italian, who wanted to keep the World Cup open until the season finale in Valencia.
"In the final part of the season I was the best driver. I'm happy, but on the other hand I'm sad because I would have liked to have won the championship. It's difficult because I lost the championship because of another driver," complained Foggia.
"When Pedro overtook me in the first sector, I was very relaxed. I knew that I was a little stronger than him in the last sector. I would have attacked him for sure," explains Foggia, wondering about Darryn Binder's aggressive maneuver in which Pole setter Sergio Garcia also fell.
"It's so strange because this rider will be a MotoGP rider next year," said Foggia, who refused to accept the South African's apology. "He told me he was sorry. But it wasn't the first time. It's already happened two, three or four times," recalls Foggia.
Petronas classifies the action as a racing accident
And what does the polluter himself say about the action in the last round? "I would like to apologize. I wanted to overtake Garcia, I braked and suddenly saw Foggia in front of me. I couldn't avoid it. I'm very sorry for him, his team and also for Garcia," said Binder. "It's what I wanted least of all, especially because Dennis was fighting for the championship. It wasn't my intention."
The Petronas team supports Binder and classifies the incident as a racing accident. "Darryn slightly misjudged himself and drove in Foggia. I'm very sorry for what happened and I apologized on behalf of the team," commented team director Johan Stigefelt, adding: "It was a racing accident and these things can happen, unfortunately it hit one of the championship contenders. "
Leopard sends Darryn Binder out of the box
The Leopard team naturally has a different point of view. The team sent Binder back when he came into the pits after the race to apologize to Foggia. "We didn't want Darryn Binder to come in the box because it was obvious that it was the wrong time after he sealed Dennis Foggia's chances for the title," the team said.
"Darryn Binder has ruined all the efforts of our team and the hard work. It wasn't just a racing accident," said the Leopard team in a statement.



www.sport.de