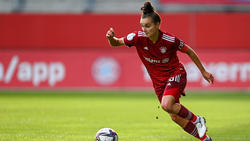 For FC Bayern, VfL Wolfsburg and TSG Hoffenheim, things get down to the nitty-gritty: The trio is facing great games in the premier class. In between, the Bundesliga summit rises.
Olympique Lyon, Juventus Turin, FC Barcelona: The Bundesliga trio has to master a real hammer week in the women's Champions League. While TSG Hoffenheim would like to surprise the strong defending champion in Barcelona as an underdog, VfL Wolfsburg in Turin and Bayern Munich want to underpin their ambitions with record winner Lyon.
"In terms of play, we are definitely at eye level. In addition, we have this extremely strong team cohesion as a bonus," said Bayern captain Lina Magull of the "Sport Information Service" before the highlights of the new group stage: "Therefore, we can confidently perform, go fearlessly into the game and show what we can do. "
FC Bayern is one of the favorites
In 2020 Bayern just failed to win the seven-time title in the quarter-finals, but then pushed permanent champions Wolfsburg from the throne in the Bundesliga and are now among the favorites in Europe. "We have matured further and strengthened as a team," said Magull: "We have developed this mentality as a team: We are aware that we can win every game."
And because it is a Champions League cracker, the league leaders Lyon asks the Munich women (4 points) in the first leg on Wednesday (9 p.m.) in the big stadium, the Parc OL in Decines. The second leg on matchday four a week later will take place in the tranquil FC Bayern Campus – it would be "of course a dream" for Magull and Co. to be able to play such a top duel in the Allianz Arena.
FC Barcelona the big favorite
Also in the big Juventus stadium, the Turin women will receive the two-time Champions League winner from Wolfsburg (4) on Tuesday (9 p.m.). It's a foretaste of the final that will be held there next May. Barca, meanwhile, invites the newcomer from Hoffenheim (3) to the usual Estadi Johan Cruyff on Wednesday (6.45 p.m. / all DAZN).
The strong Catalans are also considered to be the measure of all things this season. "They used to play really good football, but there was a problem at the front. They now have brutal speed, players who can assert themselves individually and are simply keen on goals," analyzed Magull. "The team is a complete package. Therefore, in my opinion, they are the strongest team so far."
Whoever sets the tone in Germany, that's why there is still fighting in this hammer week: On Saturday (2:00 p.m. / BR), the 8th Bundesliga matchday will see the summit between the league leaders FC Bayern and the Wolves in Munich. Complaining about the violent game plan is not an option for Magull: "There is nothing better than measuring yourself against such opponents and mastering such challenges as a team."



www.sport.de