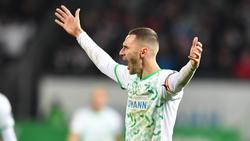 The situation for SpVgg Greuther Fürth is becoming more and more dramatic. Never before has a team been so bad in the history of the league – not even Tasmania Berlin.
Almir Numic was afraid of losing some legendary negative records last season. "Of course we would like to keep the records," said the board of Tasmania Berlin with a smile in view of the Schalke bankruptcy series and said: Tasmania will certainly be "on everyone's lips again if a team has another bad season".
It's like this: Most recently, it was Schalke that came very close to the Berliners (31) with 30 games without a win – now it's SpVgg Greuther Fürth. After the bitter last minute 1: 2 (0: 0) against Eintracht Frankfurt with only one puny point, the Franks are in a bad position like no other team in the long Bundesliga history after the eleventh game day.
Tasmania Berlin has so far been the epitome of the "worst Bundesliga club in history". The club from Neukölln had at least one win and one draw in the 1965/66 season. 1. FC Saarbrücken also scored their second point in their eleventh game in 1963/64 with a 1-1 draw at Preußen Münster – and Fürth?
Kleeblatt coach Stefan Leitl was on the verge of desperation after the horror home series continued – in 22 Bundesliga games so far at Ronhof there was no victory. "Why we are caught like this is not explainable and not deserved," he said after the unfortunate defeat with a dark expression. "Words at a loss, that's extremely bitter," added a sad Julian Green.
Despite eleven failures due to corona and injuries, the SpVgg showed a passionate performance – again without earnings. After the 0: 1 by Sebastian Rode (75th) Cedric Itten (90th + 2) deservedly equalized. But in return, Rafael Borre shot Eintracht to victory (90 + 4).
Greuther Fürth with slogans to hold out
What remained were the usual slogans to hold out. "Of course it's difficult, we don't need to talk. But it'll be over tomorrow morning. We'll try everything to get the guys back," emphasized Leitl: "The team is working."
Green also tried his hand at (purposeful) optimism. "99 percent have written us off, that's okay, but everything is still there," said the offensive player and demanded: "Self-pity does not help. It has to go on." It will – with the promotion coach Leitl, who is not available in Fürth.
The situation is dramatic. The deficit on the relegation place is already eight points. Tasmania was only missing one counter at the time. At the end of a historically bad season with only two wins and four draws as well as numerous negative records, however, the Berliners descended far behind. Fürth faces the same fate.



www.sport.de