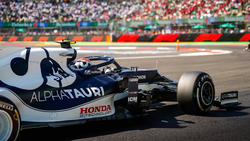 On a scale from one to ten, Franz Tost would give Pierre Gasly's appearance at the Mexico Grand Prix a "nine". But Gasly himself speaks of a "perfect weekend" after finishing fourth in the fifth from last Formula 1 race of the 2021 season and says: "I don't think it could have gone better."
In fact, Gasly has probably got the maximum out of AlphaTauri: Under normal circumstances, there was no more than P5 on the starting grid behind both Mercedes and both Red Bulls. And because Mercedes driver Valtteri Bottas fell behind in the race due to an incident, it was P4 for Gasly and AlphaTauri. And there too: the team couldn't have done better in a normal race.
"The speed of Mercedes and Red Bull is simply on a different level," says team boss Tost at "Sky". That's why he had no illusions at all. And AlphaTauri's "helper role" for Red Bull in the title fight against Mercedes is also ruled out for this reason: "We'd have to be as fast as Mercedes." And AlphaTauri is not.
AlphaTauri planned the race in qualifying
But: In Mexico, Gasly had enough speed to distance the direct competition from Ferrari and McLaren both in qualifying and in the race. That's why Gasly says himself: "The key was qualification." And Tost adds: "Fifth place on the grid was just important."
"It was clear to us that we had to be ahead of the Ferrari. Because overtaking in the race is very difficult in Mexico. Then we said: fifth place, good start [kriegen], survive first corner, survive first lap and then consolidate this position. We actually managed to do that very well, "the team boss continued.
Gasly of course benefited from the mishap between McLaren driver Daniel Ricciardo and Bottas in Turn 1. "So he came up to P4. Everything else," says Tost, "was actually child's play. Pierre easily controlled the race. He was able to reduce speed and protect the front and rear tires. His tire management was great."
Gasly: ​​If in doubt, he could have added more
There is also praise for Gasly handling the brakes well. "He took off the gas early and therefore didn't have to brake as hard. Then it was actually an easy game in the end," said Tost.
Gasly takes a similar view and speaks of having "pace and tires up your sleeve". The team had instructed him accordingly. "But I even said once on the radio: 'Just let me do my thing, I've got everything under control.' I was confident that we would be able to hold the position. "
Because Ferrari tried everything to relieve Gasly of fourth place: Even a change of place on the track between Charles Leclerc and Carlos Sainz was ordered, but in the end that didn't help against AlphaTauri either.
Ferrari beaten: Team principal Tost is very satisfied
"The team did a very good job," says team boss Tost. "We got a very good car set-up so that we were always faster than Ferrari in terms of speed. That was the basic requirement in qualifying on Saturday that we should start before them. I didn't fear them in the race. I had watched the long runs and they were just slower there. "
And so fourth place in the race behind both Red Bulls and Lewis Hamilton's Mercedes is "basically a small win" for AlphaTauri, says Gasly. He added: "I'm extremely satisfied. We scored a lot of points again. The pace was right from start to finish, I had everything under control. It was a lonely race, but nice to look at with this pace."
From AlphaTauri's point of view, Gasly's position in the Formula 1 drivers 'standings and the team's starting position in the constructors' standings in the duel with Alpine for P5 are also positive.



www.sport.de