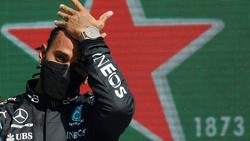 It was probably not yet resignation with Lewis Hamilton. But the lack of chances that he experienced compared to Max Verstappen at the Formula 1 race in Mexico left him rather disillusioned.
He was more than 16 seconds behind Verstappen at the finish. "It was relatively lonely until the end. I couldn't do anything against Max's pace, they were almost half a second faster per lap," summarized Hamilton.
This once again exceeded the worst fears in the Mercedes camp. "On Friday we thought they were maybe two tenths faster, but it was more," said the Briton after his second place, which for him was maximum damage limitation. Nevertheless, the deficit in the World Cup on Verstappen grew to 19 points.
He didn't even get the chance to keep Verstappen behind him. Because the Dutchman was already in front after Turn 1 and then drove up and away. Even the start went anything but planned. Because instead of taking advantage of the slipstream of pole setter Valtteri Bottas, Hamilton was next to him early on due to his better start.
Hamilton surprised by Bottas' behavior
Then, as Hamilton would have liked in this situation, the two Mercedes form a kind of protective wall against the Red Bull. "I just secured my side of the track to make sure that no one could come on the inside lane. So I tried to to keep every Red Bull that I could see in my mirror behind me, "said Hamilton.
A small criticism of Bottas, who left the wing to Verstappen, could not help Hamilton. "I thought Valtteri would do the same, but he left the door open for Max," says Hamilton, slightly surprised. Team boss Toto Wolff also clearly criticized Bottas' behavior on the way to turn 1.
This moment after a few hundred meters already decided the race. "Max was on the ideal line and then did a great job braking into Turn 1. I was on the inside on the dirt, there was no hope for me," says the seven-time world champion.
Hamilton sure: One more lap …
Verstappen was over, and due to the collision between Bottas and Daniel Ricciardo, Hamilton also lost his wingman. With that he was alone against the superiority of the two Red Bulls. "That made the race much more difficult, of course," emphasizes Hamilton. Red Bull was able to play perfectly with the strategy.
In the first stint there was a real danger that Sergio Pérez could have overtaken Hamilton with an undercut. "I couldn't really get away from him, so it was a moment when either they would do an undercut against us or we would do them. So we stopped and the team did a great job," said Hamilton.
Red Bull then extended the first stint at Pérez and only brought him in eleven laps later. Although he came out about eight seconds behind, the plan was to overtake Hamilton in the end with significantly fresher tires. But Hamilton was able to fight back.
"I'm used to the pressure, that wasn't the problem. But in the last couple of laps my tires fell off a lot and Sergio just did a very good job," said Hamilton. According to his own statement, the goal came at exactly the right time. "One more lap and then it would have been over," he is sure.



www.sport.de