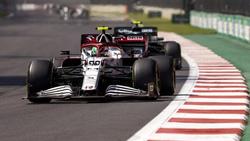 After his third eleventh place in a row, Antonio Giovinazzi was pissed off in Mexico. In a race in which he was suddenly sixth after the chaotic start phase and then at least safely seventh, it was his Alfa Romeo team with a completely wrong strategy that deprived the Italian of his possible best result of the season.
Accordingly, he reacted sarcastically on the radio immediately after crossing the finish line. "Thank you for the great strategy," he let off steam. Later on, the anger turned mostly into extreme disappointment.
"I'm really disappointed because we had the chance to score points with both cars," said Giovinazzi about the outcome of the race. So he still has to wait for his second point placement of the season. So far this season he had only finished in the points in Monaco, but now he failed again by a narrow margin.
Perfect start to the race
It all started so well in Mexico. Due to various penalty transfers, Giovinazzi started the race from eleventh place, right next to his teammate Kimi Räikkönen. When Valtteri Bottas finally spun in Turn 1, Giovinazzi found the perfect way to avoid the chain reaction that followed.
"It was a great first lap," said Giovinazzi. He came up to sixth place when the safety car was sent out. After the restart he had to let Carlos Sainz pass directly in Turn 1, but seventh place seemed to be safe for the time being. Team mate Raikkonen was still in tenth place at the time, but grabbed George Russell a few laps later.
So everything looked good until Alfa Romeo made a fatal wrong decision. Giovinazzi, who started on Mediums, pitted in lap 16. Some drivers, including Russell, had also come in earlier. But the position the Italian was in afterwards destroyed his race.
Giovinazzi is stopped by Ricciardo and Bottas
"From my point of view, the strategy was completely wrong. We stopped too early, but that wasn't even the main problem. The problem was that I got out in traffic. And so the strategy didn't work," explains Giovinazzi.
The 27-year-old ran into Daniel Ricciardo and Bottas, who were both much slower than the Alfa strategists expected. Giovinazzi was stuck and couldn't use his fresh tires. His lap times at this point were in the weak range of a mean 1:23 times.
Sebastian Vettel, Raikkonen, Fernando Alonso and Lando Norris, who were behind him before Giovinazzi's stop, were on average almost one second faster per lap on their old tires. So Giovinazzi slipped the race out of his hands without being able to do anything about it. He just couldn't get past Bottas and Ricciardo.
Stop because of falling rear tires
But why did his team even bring him in at this stage? "The strategy was about deciding how early to come in and how long to extend the stint to the hard tire. There was no reason for us to stop early. It wasn't necessary," explains chief engineer Xevi Pujolar .
Then, however, Giovinazzi complained about problems with the rear tires. And Alfa Romeo wanted to prevent everything from jamming behind Giovinazzi, so they called him to the pits to change tires.
A look at the lap times in the lap before his stop shows that Giovinazzi was the slowest driver from the top 10. However, the difference to his pursuers was not very big, the fastest driver was still team-mate Raikkonen, who was four tenths faster on lap 15. However, he was already more than four seconds behind the Italian.
Alfa puzzles: Why were Ricciardo and Bottas so slow?
Nevertheless, Alfa hoped that the fresh tires would give Giovinazzi a boost. The long stint on the hard tires was accepted. "We had zero problems with the tires," says Pujolar with a view to the end of the race. But the poor pace of Ricciardo and Bottas came completely unexpected.
"Even if you manage your tires, you are not that slow," puzzles Pujolar. "We thought their pace would be better, on par with Kimi, for example," explains the Spaniard, drawing the surprising conclusion for the team: "We didn't expect them to be slower than us."
Raikkonen and Vettel finally came to the pits on laps 32 and 33, Alonso (39) and Norris (44) even much later. Giovinazzi was already far too far behind. "I'm not only disappointed for me, but also for the team. We could have finished seventh and ninth," he calculates.
Giovinazzi missed the chance for a top result
And those points given away could hurt at the end of the season. Because thanks to Raikkonen's eighth place, Alfa reduced the gap to Williams in the constructors' championship to twelve points, but it could have been much smaller.
Personally, it was another missed opportunity for Giovinazzi to draw sustained attention with a top result. It is also not clear who will get the second cockpit for 2022. At least his shape curve is right, which also earns him praise.
"He's making good progress race after race," says Pujolar, who is convinced that Giovinazzi will still score points until the end of the season. But then your own team has to play along as well.



www.sport.de