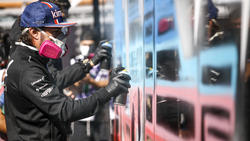 After the double retirement in Austin, Alpine is back in the Formula 1 points, at least with Fernando Alonso, who finished ninth in the Mexican Grand Prix. And his team-mate Esteban Ocon, who had to start from the back because of an engine change, was not dissatisfied with 13th place.
"It wasn't the easiest race," admits the Frenchman. "Of course we knew that we had to start from the back with the engine penalty. But I think we can get a lot of positive out of the race."
"First of all, I think we really showed fighting spirit. There were some good overtaking maneuvers, and on quite a few occasions. So that was nice. The pace of the car was actually pretty good in the race, probably the best of the whole weekend", summarizes Ocon. "
Alonso: Making amends in the race
The problems he still had to struggle with in qualifying were "much less" in the race. "But of course we don't have the full reward in the form of points on our side because we had to start so far back. But in the end, none of that is negative. And we were able to score with Fernando."
The Spaniard collected two points and was satisfied, albeit with a few drawbacks: "Obviously it was a tough weekend. We were perhaps not as competitive as we had hoped. I didn't do a good lap in qualifying. That was what it was all about I'm not very proud, "says Alonso.
"In the race I had the opportunity to do better and I think everyone in the team did it well. And yes, finishing in the points even on a difficult weekend proves that we are very solid on Sundays. I am on top of that I'm happy."
Benefited from the chaos in the first corner
Alonso was also happy to have made it through the first lap unscathed after pole setter Valtteri Bottas was shot shortly after the start. "It was definitely scary," he looks back. "I think Sebastian (Vettel; d. R.) and I were both on the right side, that wasn't the best decision, but luckily we got our car through safely."
"You always want to make up a few places if you can, and if one of the top drivers has problems in the middle of the track there is of course an opportunity to get more points, and it was like that today." The early incident did not surprise him, "because we know how tricky the first corner is here".
While Bottas ended up in 15th place behind the two Alpine pilots, the competition for fifth place in the constructors' championship – Alpha-Tauri – was able to catch up and is now level on points. Pierre Gasly was a strong fourth, Yuki Tsunoda dropped out early.
It's AlphaTauri's turn in the World Cup table
"Of course we know that AlphaTauri performed extremely well in some races," analyzes Alonso. "In some of the others we were just lucky to get points. And in some of the others I think we were better as a team."
"Maybe we are not as competitive or we do not have the speed of the AlphaTauri car. But we were able to drive better races, without mistakes, without mistakes at the pit stop and with both cars on the points. So each of the teams has its own Strengths, and we have to play to our strengths. "
Team-mate Ocon also knows about the competition from AlphaTauri: "They have a very, very fast car. And they have fully exploited this potential here. We also saw that Yuki's form was really very good this weekend. So we expect that it will be an uphill battle to the end. "
"But we have to find our way back to the form we had when we qualified fifth or sixth, or at least we were in Q3," said Ocon. "That is exactly what we want to achieve next time. We definitely need a better qualifying in Brazil."
However, the starting grid there will be based on the result of the sprint race. "A lot of things can happen there," Ocon is aware of. "So it's going to be a close fight, but we're not just going to give it up."



www.sport.de