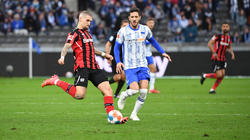 The almost 1,000 fans who traveled with them cheered the late equalizer like a victory, while the Bayer 04 Leverkusen players were even more excited about the upcoming international break without games in the Bundesliga.
"I hope that one or the other player will come back in the next two weeks," said Leverkusen's coach Gerardo Seoane after the 1-1 draw at Hertha BSC with a late goal from Robert Andrich in the 90th minute.
Despite the fourth Bundesliga game without a win, the Swiss praised the morale of his team, which had been severely decimated in recent weeks due to injuries.
"In the second half the team fought with heart, but had little structure," said Seoane of his last line-up, which was able to equalize the opening goal by Hertha's attacker Stevan Jovetic in the 42nd minute at the last minute.
The 43-year-old Bayer coach had to help two 16-year-olds to make their debut in the Berlin Olympic Stadium in the Spaniard Iker Bravo and the Dane Zidan Sertdemir, who are now the youngest players in the Bundesliga after Youssoufa Moukoko from Dortmund.
Wirtz is missing struck
"It wasn't our plan before the season for these two players to play. But we had no other options," said Seoane of the team, which had an average age of just under 23.1 years at the final whistle.
After strikers Patrik Schick, Lucas Alario and Karim Bellarabi, midfielders Charles Aranguiz and Mitchell Bakker and the long-injured Julian Baumgartlinger and Timothy Fosu-Mensah, Florian Wirtz was also out in Berlin.
The 18-year-old had to sit out due to muscular problems with the hip flexor. The use in the upcoming two international matches on Thursday against Liechtenstein and on Sunday in Armenia is still open.
Seoane said that they would talk to national coach Hansi Flick, who was among the 22,187 spectators on Sunday, and those responsible at the German Football Association and make a joint decision: "It looks like he won't train for a few days can."
Bayer Leverkusen is hoping for healthy national players
In view of the personnel situation, the Leverkusen coach hopes that the "ten or twelve players posted to the various national teams will return healthy" and that the situation will worsen with new injuries.
Goalkeeper Lukas Hradecky sees the "dent" of Leverkusen as overcome after four league games without a win with the point win in Berlin and the 4-0 gala on Thursday in the Europa League against Betis Sevilla. Now the Finn is happy to see other faces for ten days: "It's good for all of us."
For the actors remaining in Leverkusen, it is time to take a deep breath. "A break will do us good," said Andrich, who spent eleven years with Hertha and switched from local rivals Union to the Werkself in the summer: "I hope that we can pool our strengths again by the end of the year and another one or two three players join us so that we have a bit more breadth in the squad again. "



www.sport.de