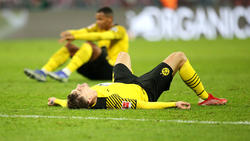 Big sporting worries at Borussia Dortmund, internal squabbles at FC Bayern and FC Schalke 04 back in crisis: TV legend Marcel Reif has, as usual, expressed his opinion on current football topics in his show "Reif ist live" on "Bild TV" .
The BVB was "trimmed a bit" in the defeats in the Champions League against Ajax Amsterdam and in the Bundesliga at RB Leipzig last week, analyzed Reif. "The game in Leipzig is worrying. There were a few things that weren't right structurally."
The Dortmund team was "surpassed in intensity" by RB, said Reif, "not even in football. The Leipzig team won every duel. They showed what they can do."
In addition, important players such as Erling Haaland are canceled at BVB. "That would be difficult for any team," said the 71-year-old journalist.
After the bankruptcy of the runners-up, BVB captain Marco Reus had clearly criticized the tactical direction and thus indirectly also against coach Marco Rose – a difficult situation for the coach, said Reif: "He didn't like the game and he certainly didn't pleased that Reus was apparently not entirely wrong. When Reus says something like that, it has weight. "
FC Bayern threaten "fundamental issues"
Reif does not expect a surprise in the fight for the German championship. "Bayern ensure clarity, the competitors help. It would be nice if it stays exciting until the end. But I don't see anyone who has the consistency to catch them."
FC Bayern is definitely not on the defensive, judged Reif. "But I want to know what they can do when it comes to something.
However, the advance of some fans to bring an application to end the sponsorship agreement with Qatar at the general meeting is causing a stir around Säbener Straße.
"I think it's good that the topic is holding up and the fans are concerned. But it's the old story: In professional football at the top you need big money. And there are the Qataris and now the Saudis at Newcastle United right at the front, "said Reif. "Those are fundamental questions. I think it's wrong if the fans don't want to go there anymore. You should go there and look, and if you see something that is not right, then start a conversation, possibly internally too. It worked I hear a lot moving there, too. "
FC Schalke 04 "finally arrived" in the 2nd Bundesliga
Should the proposal be passed at the general meeting, then CEO Oliver Kahn would have "a topic that goes beyond a chain of three or four," explained Reif. "There are contracts, you have to find a new partner. The fans have it relatively easy in this context. You will have to find a solution in between. I think it's difficult to reconcile the very high demands with the pure teaching. "
It was also difficult recently for FC Schalke 04, which is in crisis again with three competitive defeats in a row. "That's real life. At some point they were a big number, then it was just folkloric. For a few years, Schalke somehow still managed to do it, 'Masters of Hearts' and so on, and then it went wrong. Now come Heidenheim and Darmstadt and Schalke have finally arrived in the second division, "said Reif, looking at the sobering situation in the relegated Bundesliga.



www.sport.de