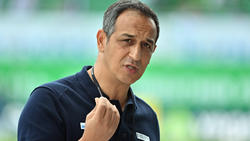 Sports director Rachid Azzouzi von Greuther Fürth sees the hype about the "best 2nd Bundesliga of all time" with clubs like FC Schalke 04 and HSV as critical. The behavior of the top clubs around FC Bayern and BVB in recruiting the best young talents bothers him.
Azzouzi criticized the duel between Schalke and HSV at the start of the second division in the media like a "World Cup final", criticized Azzouzi in a "kicker" conversation with the Mainz CEO Stefan Hofmann and managing director Ilja Kaenzig from VfL Bochum about the situation of the small clubs in the Bundesliga. "With all due respect to the clubs: Something doesn't fit and is artificially exaggerated."
Azzouzi accused the top clubs around FC Bayern and BVB of problematic methods of recruiting talent: "Bayern and Dortmund can have as much money as they want. I don't care. But if they give a 14-year-old more money when we are our best players in the second division, it does something to the training and the player who may lose motivation relatively early on and think he has made a lot of progress. "
Fewer top talents because of the behavior of FC Bayern, BVB and Co.?
The young hopes are only "promises for the future," said Azzouzi. "The players often do not understand that, and it is also difficult. Quite a few cannot cope with it. As a result, German football loses promising talents because they earn too much too soon."
Nowadays, a player can "no longer develop healthily over several levels. For example from Fürth to Mainz and then to Bavaria. Now he is being lured by a top club at a young age with a high basic salary," said Azzouzi. "If he doesn't make it, he should later play for half of the second division. That is of course a problem, and often a disaster for personal development. And the small clubs are deprived of the opportunity to create transfer values, to add substance to develop."
"No more desire" for the Champions League
Azzouzi also warned of football oversaturation due to increasing commercialization. "Before Corona, Juventus met Barcelona and Bayern met Manchester on some trips to Asia. The Champions League was played through in preparation. Then it started all over again, and at some point you don't look at it anymore. I say that, although I do I like the Champions League. But when I see Real against Juve for the 23rd time, I don't feel like it anymore. "
The Bundesliga needs "its own identity", it has to "stand for certain things", demanded the manager from Fürth. "I don't have to have the Mbappé, I'll get Haaland. And if that works, the next Haaland. That can be a way. I would like the Bundesliga to remain the Bundesliga in ten years, maybe with another champions than Bayern Munich. "



www.sport.de