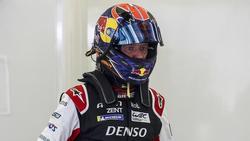 Seven-time rally world champion Sebastien Ogier tested the Toyota hypercar together with Sebastien Buemi in Bahrain last Sunday and tasted blood. Since the Frenchman will no longer compete as a full-time driver in the World Rally Championship (WRC) in the future, he is toying with an LMP2 involvement in the World Endurance Championship (WEC).
Ogier cannot hope for a cockpit in the prototype top class at Toyota, although the Japanese Kazuki Nakajima has announced his resignation. It is expected that the top Super GT and Super Formula driver Ryo Hirakawa will take over the role of his compatriot. The 37-year-old is therefore hoping for a chance to acclimatize in the LMP2 class in endurance sports.
"If I want to have the ambition to drive in a top team, the LMP2 category will probably be better," says the rally ace after his hypercar test. "A start in a GT class would be better than nothing to gain experience in this kind of racing. I've seen GT races and the level is very high, so there is a lot to learn. LMP2 would be better. "
Ogier has the big dream of one day fighting for overall victory at the Le Mans 24 Hours, even if he first has to fight his way through the various classes. The Frenchman would love to achieve this goal with Toyota – the brand with which he will fight for the WRC title in 2021. "There is still a long way to go," admits the world rally champion.
Ogier wants to work his way up
The Frenchman is ready to lend a hand, even if at 37 years of age he is no longer one of the youngest racing drivers. "I wouldn't have liked to just get such a chance and be able to drive a hypercar anyway," said Ogier, who would like to develop his opportunity. "Because I'm not yet at the level I want to be."
After all, Ogier completed 84 laps at the wheel of the hypercar and burned good times into the asphalt. With a 1: 49.636 he was less than two seconds behind the Toyota best time. The Frenchman had no intention of driving fast laps. He wanted to get used to the car and not make any mistakes. "It was an interesting and fun day," concluded Ogier. "In life, of course, you are always looking for new experiences."
"I've already learned a lot," said the long-distance rookie happily, who has not yet reached the end of the flagpole and wants to improve significantly. "This is just the starting point now!" The Frenchman doesn't want to put too much pressure on himself because he wants to approach the long-distance project "realistically". "It was my first ride in a hypercar."
Car not as expected
The car itself did not quite meet the rally ace's expectations, as he had hoped for more full throttle moments. "You can't just go full throttle, you have to find the right level to drive this car, which is not easy if you've only done simulations beforehand. I'm happy with the day and enjoyed it a lot."
Since Ogier has already tested a DTM Class 1 and Formula 1 racing car in his career, he actually expected more downforce and significantly more aggressive braking behavior. "But it is very sensitive, which is why it quickly happens that the wheels lock. That is something I found out today," reports Ogier. Even adjusting the traction control has proven to be a challenge, which is why, according to the Frenchman, it is not easy to drive the car fast.



www.sport.de