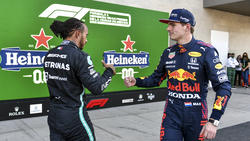 There are the three big S-questions that will be the focus of the battle between Mercedes and Red Bull at the Mexican Grand Prix on Sunday: start, strategy and stable order. All three will decide on the winner on Sunday at the Autodromo Hermanos Rodriguez. Mercedes fought for its first advantage with pole position on Saturday, but it's nothing more than a small advantage.
Above all, all eyes should be on the start. Valtteri Bottas starts from pole position. Behind them, Lewis Hamilton has to try from the dirty side to keep World Championship rival Max Verstappen in check on the long way into Turn 1. Red Bull team boss Christian Horner has already announced that fans will have a box seat in the grandstands at Turn 1.
Because Red Bull would like Verstappen to get past Mercedes at the start – after that it could be difficult on the straights due to the good speed of the Silver Arrows. And: "You have to be careful because you can't keep up here for so long, otherwise the temperatures will shoot through the roof," says Horner.
Important sprint in turn 1
So the start with the long way in Turn 1 is the best chance. "Yes, it will be difficult at the start," believes Valtteri Bottas. "It is of course a good thing that we have both cars on the front row, but they are right behind us," he said of Red Bull.
At almost 900 meters, the path in Turn 1 is just as long as in Sochi, where the second row on the grid is considered an advantage. However, the slipstream effect in Mexico is not that great due to the thin air. "But he's still there," warns Hamilton and announces: "We will work together as a team and try to keep first and second place as a team."
Even so, it is likely that Turn 1 will be a tight spot between the World Cup rivals. "We saw in 2019 that things can get a bit hairy there," says Horner. A collision could help Verstappen thanks to his lead, but the team boss does not want to see a repeat of 2019 – because things can go wrong quickly.
"Max started from three at the time, and Lewis was very aggressive at Turn 2 – and then a puncture ruined the rest of the race," says Horner. "It has to be there at the finish and I think we still have a great chance in this race."
Red Bull faster in racing trim?
Because that's the other factor: Why should Verstappen risk a collision when he can beat Mercedes over the distance and thus extend his lead? Although Mercedes had the upper hand in qualifying, Red Bull could be faster again in the race trim and still get past – like in Austin.
"We believe that we should have a fast racing car," says Horner. "I think we can still have a good race." Because: "We looked pretty good on the medium, and we no longer see the soft tires. Max was not satisfied with them so far."
Verstappen himself is also building on the fact that all four top cars are up front: "So hopefully it will be exciting," he says. "Maybe the command post can also be a deciding factor. Who knows? We'll find out."
"It will all depend on where everyone is after the first lap," adds Horner. "And then of course strategy will come into play."
Mercedes: We haven't talked about the outcome of the race yet
And at the end the third S may come into play – stable order. It seems impossible this weekend that Sergio Pérez or Valtteri Bottas can win when their team-mate is right behind them. At Bottas, the topic is even more acute after qualifying, even if Head of Motorsport Toto Wolff brushes that aside for now.
Both Mercedes have to work together as early as Turn 1 to keep Red Bull behind: "Of course we will discuss how the first straight can go. But it always turns out so differently than you think," says the Austrian. Wolff rules out the fact that Hamilton is brought forward at the start by means of a stable order.
They didn't talk about such a scenario before qualifying anyway: "It would have been a bit presumptuous to talk about the race win before qualifying," he waves him away. "Now the situation is different. However, we will clarify that in the morning – as usual in the strategy meeting."
However, stall orders are not a popular topic, especially among fans – especially when it goes beyond their own team. Most recently in the DTM, the season finale at the Norisring caused a controversy because Maximilian Götz was patronized for the title by his Mercedes colleagues – even if they drove in completely different teams.
Wolff indicates stable order
In Formula 1, too, there are customer teams with Aston Martin or AlphaTauri who could theoretically intervene in a certain way. But Wolff thinks that is unlikely: "In my opinion, it has never happened in Formula 1 that other teams have had to give up their position for someone else. At least not in my memory," he says.
"It's common in touring cars, it was done in the DTM 30 years ago. But that won't happen in Formula 1," emphasizes Wolff.
But stable orders are also controversial within the team: Bottas had to let Hamilton win in Russia 2018. That caused little understanding at the time, given the more comfortable starting position for Hamilton at the time. In Mexico, a stable order would be logical, given the fact that Hamilton has twelve points to catch up on Verstappen.
Wolff cannot deny that a swap would make sense if Bottas were in first place ahead of Hamilton. "I'm a racer and always find the discussions disappointing, but sometimes the circumstances just oblige you to," he says tellingly.
"But we will discuss this with Valtteri and Lewis first because they are involved in the discussion. And then we will see if the racing scenario will force us to make that decision."



www.sport.de