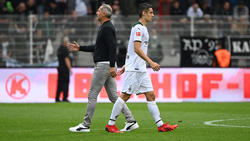 A lack of consistency, two injured top performers and a dissatisfied national player: Borussia Mönchengladbach has some construction sites waiting for Adi Hütter during the international break.
Adi Hütter will hardly be able to take a breather after grueling weeks during the international break. After all, there is a lot of work waiting for the coach of Borussia Mönchengladbach to be aware of it not only after the poor 1: 1 (1: 0) at FSV Mainz 05. There would be the lack of constancy, injured top performers or a pissed-off Florian Neuhaus – the construction sites at Borussia are still big.
"We still have a way to go," said Hütter, who has not yet finally got the fluctuations under control even after the glittering cup night against Bayern (5-0). Against Munich, his team "maybe overperformed a bit, because we had a star day. What we played in the second half today were worlds apart".
Gladbach: Neuhaus wants backing
And so the foals continue to step on the spot after around a third of the season – and now have to deal with critical tones from their own ranks. He would have "wished for a bit more support from the club," said Neuhaus on the "DAZN" microphone, but this was "probably a bit of wishful thinking in professional football".
After his steep ascent, the 24-year-old is by no means playing a major role this season. "I accept that and just want to keep going in training," said Neuhaus, who is now traveling to the national team: "I definitely want to get back into the team with good performances."
Against Mainz, the midfielder was initially on the bench again, came into play in the middle of the first half and took the lead (38th).
In the second half, Neuhaus, but also the entire Gladbach team, had little to offer. Silvan Widmer (76th) punished the disappointing appearance.
Hütter explains the Neuhaus situation
Meanwhile, Hütter tried to smooth things over. "I'm not the club, I'm the coach, and there is also a performance principle. Flo also sees that we are very well staffed at the center," said the VfL coach, emphasizing that the situation for Neuhaus is "new and "is different" and that "belongs to the development of a very good player".
But in addition to the background noise, the Gladbach company will probably have to cope with other failures. Nico Elvedi hobbled into the bus on crutches suspected of having an ligament injury, while Hütter hopes that Breel Embolo is "just something muscular". Both were substituted in the first half.
Yann Sommer didn't want to see the situation too negatively – after all, the gap to the European Cup ranks is manageable. The team have "found their style, you can also see the coach's signature," said the goalkeeper: "Now we have to bring in the long-awaited consistency."



www.sport.de