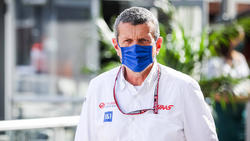 After the renewed qualifying posse at Haas in Mexico, team boss Günther Steiner spoke a word of power and defended the approach of the command post. "We discussed this after Zandvoort and decided that we would stick to what we are doing," explains the South Tyrolean.
In the Netherlands, Mick Schumacher had received permission to overtake his team-mate Nikita Mazepin on the outlap in qualifying so that he could get his tires up to temperature. Mazepin now demanded the same in Mexico, but received no approval from chief engineer Ayao Komatsu – which Mazepin audibly displeased.
But in contrast to Zandvoort, when Schumacher had a clear path ahead of him after the maneuver, Mazepin would have had a few more drivers ahead of him in Mexico. "He doesn't see what's in front of him. He may be able to walk past Mick, but then he's stuck again. Why should we do that?" Says Steiner.
Steiner explains: We have all the information
So the team decided not to allow a situation like the one in Zandvoort to occur in the first place. "We have the whole field under control, we see them all in front, and we see how many cars are in front," explains Steiner: "We know where we will end up in the qualification. If you drive a line, you screw up the lap like we did before. That's why this decision was made. "
This approach will continue to apply in the coming races, "because we have a much better overview of what is happening," he clarifies. Steiner is convinced that this knowledge will also gradually mature among the drivers. "I think it takes a little time for them to understand and they have to look at what happened. And then they understand why we did it," he said.
The rather angry reaction of Mazepin, who asked his engineer if he wanted to "kidding" him, is something Steiner does not want to overlook. "In the heat of the moment, you sometimes say things that you wouldn't say if you thought about it again. He followed the instructions and that was that," says Steiner.
Steiner praises the development of its drivers
Apart from this incident, Steiner could live very well with the performance of his two drivers. Although both ended up at the end of the field again – Lance Stroll was unable to set a "real" time due to his accident – the small gap between Schumacher and Nicholas Latifi and the improvements at Mazepin only allow one conclusion, according to Steiner: the two rookies are developing always on.
"I don't know why we're taking these steps, because I know we haven't changed anything on the car, but others have. So we're taking bigger steps than it looks because the others have developed their car and we haven't," explains Steiner.
At Haas, the focus was on the 2022 season very early this season. But instead of losing ground to the competition, the team is even moving closer. "I think it is mainly due to the drivers. They are getting used to Formula 1 more and more," believes Steiner.
Both drivers had a good lap in qualifying in Mexico, even if Schumacher was not satisfied. For Steiner, however, this is not a new finding. "He's never satisfied, I now know that. At some point the day will come when he takes pole position that it will be the perfect lap," said Steiner with a wink.



www.sport.de