The amendment of the catalog of fines was preceded by a long back and forth. The new rules will come into effect on November 9th. Admittedly not with the stricter driving ban rules originally planned. But in such a way that fast drivers and parking offenders in particular have to reckon with tougher sanctions. There are also new regulations to be observed.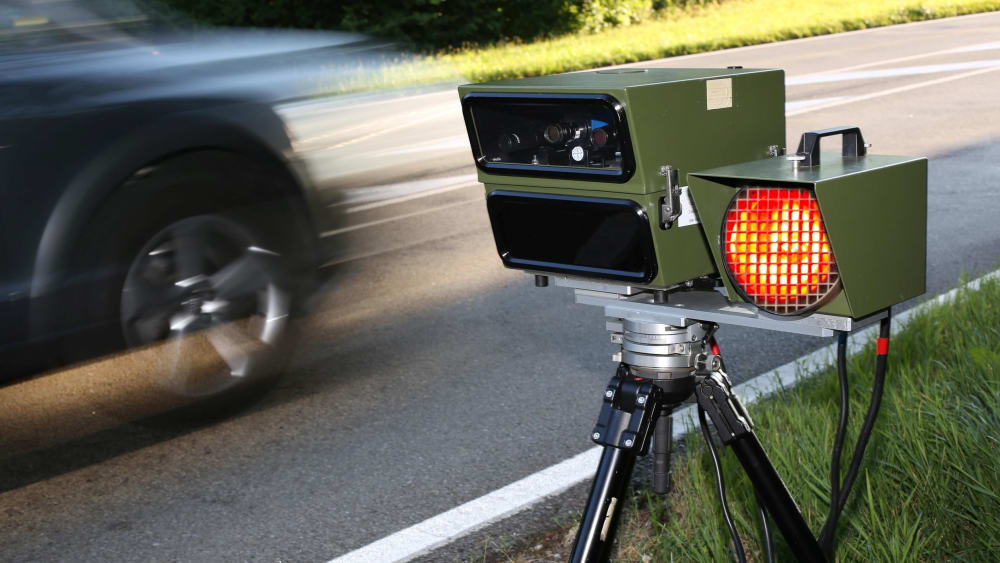 Speed ​​measurement: Anyone who ignores speed limits must expect higher fines.
aum/ADAC/Beate Blank
The new catalog of fines should actually be implemented in April 2020. But the first version of the amendment had to be withdrawn due to a formal error. On October 8, the Federal Council approved the modified set of rules, and it will be officially valid from November 9. It then imposes higher fines for misconduct in road traffic – and it is easier to collect points. When it comes to driving bans, however, things are not as tough as many motorists and motorcyclists feared: Having to do without a driver's license for a month at speeds above 21 or 26 km / h is off the table.
The most important changes at a glance:
Speed ​​violations cost money
Anyone who disregards speed limits can expect higher fines. A few examples: Driving up to 10 km / h too fast in urban areas now costs 30 instead of 15 euros. From 21 km / h "over" the fine increases to 115 euros and there is one point on the Flensburg account. The highest penalty threatens racers who exceed the permitted limit within closed local drives by 70 km / h: three months driving ban, two Flensburg points and a fine of 800 euros. Speed ​​sins out of town are punished similarly, only the fines are not quite as high.
Illegal parking is not a trivial offense
Yes – there are venial park sins. Others, however, endanger pedestrians and cyclists, for example. For these cases, the new catalog of fines provides for more stringent sanctions that extend up to Flensburg points.
Anyone who parks illegally on sidewalks and cycle paths, stops on protective strips or parks and stops in the second row, can expect a fine of up to 110 euros. The unauthorized use of a parking space for the disabled now costs 55 instead of the previous 35 euros. The same applies to unauthorized use of a parking space intended for electric or car sharing vehicles. And parking the car in clear places such as a sharp curve is charged with 35 euros (previously 15 euros).
In the case of serious violations, there is an additional point. Always then "when illegal parking or stopping in the second row and on bicycle protection lanes or parking on sidewalks and cycle paths hinders or endangers other road users, property damage has occurred or the vehicle has been on the sidewalk or cycle path for more than an hour parks ", as the Automobile Club Kraftfahrer-Schutz (KS) explains.
Emergency alley: zero tolerance
How important the emergency lane is to enable the police, fire brigade and rescue services to get through to the accident site quickly – that should have got around by now. And yet there are still drivers or motorcyclists who fail to create such a rescue alley or, even worse, who brazenly drive through it themselves. Both now result in a fine of 200 to 320 euros, a one-month driving ban and two Flensburg points.
More protection for cyclists and pedestrians
Road traffic regulations (StVO) have already stipulated that a "sufficient distance" must be maintained when overtaking cyclists. Now she formulates it more precisely: In urban areas you have to keep a distance of 1.5 meters, out of town 2 meters.
A new regulation also serves to protect cyclists – but also pedestrians – which stipulates that trucks with more than 3.5 tonnes must only go at walking pace when turning right within a town. Violations are charged with 70 euros and one Flensburg point.
So-called "dooring" accidents should also be better avoided in the future: anyone who thoughtlessly opens the car door and thus endangers an approaching cyclist pays 40 (previously 20) euros. And turning without looking over the shoulder and with the risk of cyclists can come to 140 euros in connection with a one-month driving ban.
On the other hand, cyclists must also expect higher fines if they do not comply with the rules: The unauthorized use of sidewalks, cycle paths on the left and hard shoulders by vehicles – including bicycles – costs up to 100 euros.
New rules for cargo bikes
In the future, cargo bikes will also be able to accept young people and adults as passengers; previously, this role was only allowed to children up to the age of seven. In addition, cargo bikes are given their own symbol – for example for signs indicating special cargo bike parking spaces.
Auto-posing costs three digits
The Federal Ministry of Transport explains what auto-posing is like this: "Causing unnecessary noise and avoidable exhaust emissions as well as useless driving back and forth". Such bragging is now charged with 100 instead of the previous 20 euros.

www.kicker.de