The condition of Fortuna Düsseldorf's Andre Hoffmann "is stable". The Rhinelander announced this on Sunday morning. Hoffmann has to stay in the clinic.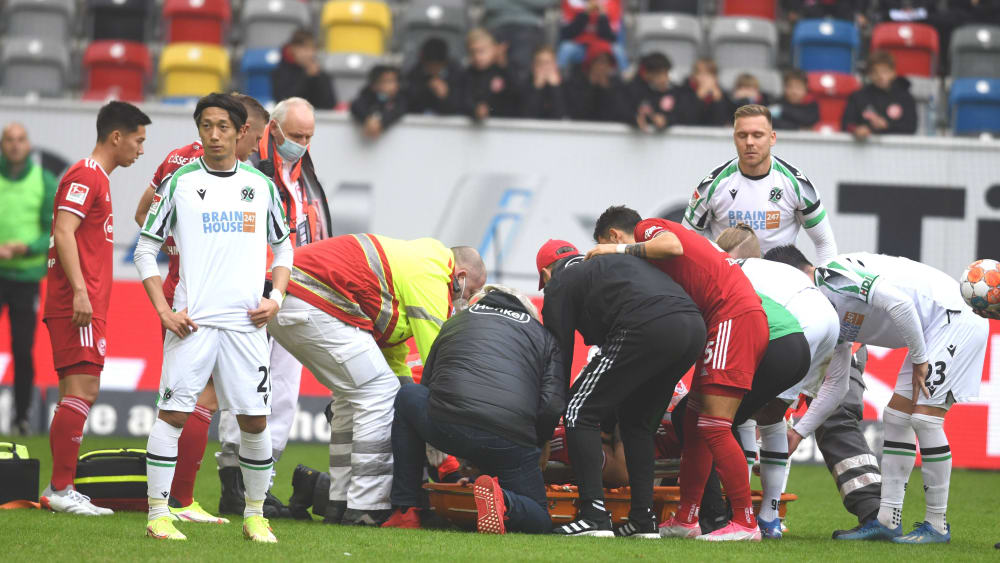 First treatment on the field: Andre Hoffmann surrounded by assistants.
imago images / Horstmüller
There is still a suspicion that Düsseldorf's Andre Hoffmann suffered a fractured jaw and cervical vertebrae. The CT examinations after the end of the game in Düsseldorf have not yet brought any final clarity. Even on Sunday morning, the club was unable to give an exact diagnosis of the type and severity of the injury. Hoffmann's "condition is stable," said Fortuna. "For the time being, he will remain in the clinic for further examinations." It has been known since Saturday that the Fortuna professional can move legs and arms after his severe collision.
In the eleventh minute of the second division game against Hannover 96 (1: 1) Hoffmann and guest player Sebastian Ernst rattled together. It looked like the Fortune had tried to get his head on the ball and was then hit violently by the opponent in the neck and shoulder height. It was obviously not a foul. In any case, the referee did not punish the Hanoverian.
From then on Hoffmann could no longer move his head or neck. The 28-year-old was also unable to open his mouth and was obviously only able to bring out individual notes with great difficulty and pain. "He could only swallow a little and was gone for a moment. He couldn't remember anything that had happened," said Blecker. "He was in great pain, but could move everything below his head." The broken jaw is uncomfortable, but not dangerous. A spinal injury can only "never be determined" by looking and touching.
Transport on a vacuum mattress – another MRI scan will follow
Blecker was very satisfied with the approach taken by the rescue workers; they had reacted exactly the right way. "Hoffmann was immediately immobilized and the evacuation was carried out on a vacuum mattress, as is required in such a case," said Blecker. At the university clinic, he was taken to the emergency room where the diagnoses were made.
"He was approachable and had no symptoms of paralysis, only in the cervical spine area. And he was in severe pain," said Fortuna's club doctor. Apparently nothing happened on the atlas, the uppermost and very sensitive vertebra of the cervical spine, after the first pictures. However, more MRI images are to follow. "Nothing needs to be done immediately in an emergency," said Blecker. "Dizziness, not being able to see properly and a concussion are normal consequences. He also fell over like a tree." Blecker knows that from ice hockey. The doctor hopes that the collision with Hoffmann will not have as dire consequences as originally feared.
Hoffmann has played six games this season and scored one goal. The 28-year-old from Essen and former U-national player moved from Hannover 96 to Fortuna in 2017.

www.kicker.de