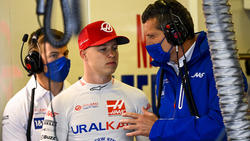 The qualifying dispute from Zandvoort continues at Haas in Mexico. At that time there was a quarrel between Mick Schumacher and Nikita Mazepin because Schumacher, contrary to the normal agreement, drove past the Russian on the warm-up lap. Schumacher had his team's permission because he usually drives the faster outlap.
In Mexico it was Mazepin who asked the team to drive past his teammate because he wanted to do a faster warm-up lap. But chief engineer Ayao Komatsu denied the request – much to the displeasure of the Haas pilot.
Komatsu:"There are five cars in front of you, a good gap to the back."
Mazepin:"I have to overtake Mick, he's too slow."
Komatsu:"Negative. Please stay behind."
Mazepin:"Are you kidding me?"
Komatsu:"No, I don't want to be kidding, Nikita. If you want to keep a distance, do it now."
What annoys Mazepin: Schumacher was allowed to overtake in Zandvoort, but he wasn't allowed to do it himself in Mexico. "At that time I was told that the drivers can do that if they use the tires in a different way," he told Sky.
"Apparently it's different on the other side …"
And exactly the "identical" was the case in Mexico. Because his tires got cold while waiting at the red light, Mazepin wanted to drive faster than Schumacher did before him. "We stood there for 2:30 minutes without electric blankets and lost temperature in the tires," said the Russian.
He wanted to get them back, "but I saw that my team-mate didn't do the same very early on, so I thought he might want to start with lower temperatures," explains Mazepin. So he wanted to swap positions. "I had the feeling that I had to push. But I wasn't allowed to."
The Russian criticizes Haas for apparently measuring two different standards: "I followed the rules, but apparently it's different on the other side of the garage," he notes.
He emphasizes that it has nothing to do with his own team at Haas: "I have a great team internally," said the Russian, who, after breaking out in front of the TV cameras, took on more conciliatory tones a little later: "I just want to say that I have a good relationship with the team. No more. "
When asked whether he identifies unequal treatment in the team, he puts his anger on the radio into perspective: "There isn't much that pisses me off in the car," he clarifies. "I have to keep the questions short because I don't have time. We don't sit in the pub and drink beer," said Mazepin. "You ask, you get an answer and you respect the answer."
Schumacher is not looking for conversation
Schumacher himself doesn't want to say much about the incident. But there was no reason for him to swap positions – especially since he was still hanging behind a few other cars. "I only saw that he was trying to overtake. But that wasn't really necessary in that case because everyone still had enough space," he says.
"The two Williams drove by, so I did my thing. The team managed it," said the German, who will not seek a conversation with his team-mate: "I have nothing to do with it in the case", he waves it away.
In the end, Schumacher and Mazepin landed in positions 18 and 19. After various penalties, Haas moved up to 14 and 15. Nevertheless, Schumacher is dissatisfied: "Overall, the whole qualifying didn't go so well. We had difficulties adjusting the car today and we made a few mistakes here and there in qualifying," he says.
But he can't say exactly what the problem with his car was: "In some corners we had too much understeer, in others too much oversteer. It was a little different than on Friday," said the German. "I think the track is not the easiest. We shouldn't dwell on it for too long and rather look at the race."



www.sport.de