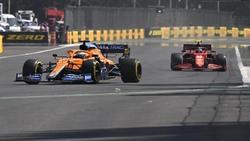 Ferrari and McLaren cannot keep up with the two top teams Mercedes and Red Bull for a whole season, but the mini-world championship for third place in the constructors' championship gives both traditional teams the feeling of what it is like with one goal in mind to have and fight for it.
In the history of Formula 1, both the Italians and the British not only left their mark, they both shaped entire epochs. The greatest drivers in history have sat in the cockpit for one or both teams over the course of their careers. The ambition to be able to reach for the World Cup crown again at some point – ideally as early as 2022 – is great.
"When we wake up in the morning, we want to beat our competitors. And we want to fight this battle with Ferrari for as long as possible," says McLaren team boss Andreas Seidl. Since arriving at McLaren, the Bavarian has set a lot in motion together with Managing Director Zak Brown. Young, fresh drivers, a modern appearance and a sporty upswing have been the hallmarks since then.
Seidl: The season simply offers a lot of positive things
It was not for nothing that McLaren was voted the most popular team in the large fan survey carried out by the Motorsport Network together with Formula 1 and in partnership with Nielsen Sports. Seidl sees the racing team on the right track and introduces the current season as a yardstick.
"We have had a great season so far and have achieved a lot," says Seidl. "We were able to take another step forward in the performance of the car. If you look at the average difference in lap times compared to Red Bull and Mercedes, it has shrunk compared to last year," he notes.
But the cooperation within the team has also improved, which is also evident overall on the track. "After such a long time we were able to achieve a pole position and a victory. There are simply a lot of positive things," said Seidl, praising the overall picture.
Ferrari comeback for Seidl no surprise
And yet there could be a step backwards in the World Cup. McLaren finished third in the World Cup last year, but didn't feel the Ferraris' hot breath on the back of the neck. Scuderia is back after a historically bad 2020 season and is about to take McLaren for third place.
"Despite all our progress, we just have to accept that it is no surprise when a team like Ferrari comes back where it belongs," said Seidl. As a result, "we have an intense battle for third place this year, while it was easier to get third place last year," he says.
But McLaren is ready for this fight, even if there won't be any huge trophies in the end. "Until the last lap in Abu Dhabi" you will give everything, Seidl clarifies.



www.sport.de