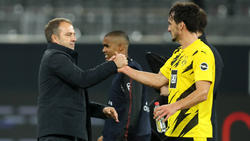 At the end of the year, the German national soccer team will face Liechtenstein and Armenia in qualifying for the World Cup. Now national coach Hansi Flick has expressed his expectations and praised the achievements of his predecessor Joachim Löw in the highest tones.
Herr, Flick Julian Brandt and Julian Draxler are back in the squad for the first time since autumn 2020. What prompted you to be nominated?
Hansi Flick (56, national coach): Julian Brandt has developed well in the last few weeks. We wanted to see him and Julian Draxler with the team again at the end of the year and before the start of the World Cup year. Both have an enormous footballing quality that can help us.
Lukas Nmecha is new. What do you like about him?
He has a good presence in the box. He keeps doing the runs in depth and asserts himself and the ball well. We can really use these skills. Of course, Jonathan Burkardt was also an issue because he is developing well in Mainz. But he is the captain of the U21s and very important for the team on the way to the European Championship.
The squad is very large with 27 players. Will you spare some professionals after the home game against Liechtenstein and not take them to Armenia?
These are things that we can only decide after the game against Liechtenstein.
The World Cup ticket has already been purchased. What do you expect from the games?
We want to say goodbye to the year on a positive note. I expect the team to be just as passionate and active as in previous games. One should recognize our idea of ​​football. We did our homework. Now we want to take another step forward.
Mats Hummels is missing again. Is that due to his knee problems or are you no longer planning with him?
No. I am in close contact with Mats. As he himself says, he is not yet at 100 percent. It will do him good to use this international break to get even fitter. We agreed on that together.
Before the game in Wolfsburg, Joachim Löw will be bid farewell. What distinguished him as a national coach?
He gave German football an idea that over the years has received a lot of recognition around the world. He was the architect. He's the best national coach we've had. We want to say goodbye to him with a football festival. He deserves it.
What did you learn from him for your coaching career?
My life would have been different if he hadn't called me then. That was a so-called game changer, for which I am very grateful. He always had great confidence in his team. He always gave me my freedom too. With all the pressure he was under, he was always sovereign.
How did you follow the discussion about Joshua Kimmich?
I last spoke extensively in an interview. I could only repeat that once more now. I am vaccinated myself and am a supporter of vaccination.



www.sport.de