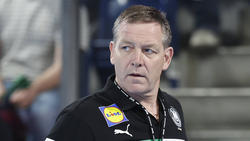 The German handball players lost their second international match against Portugal, but gained important insights.
Alfred Gislason looked rather sullen as he strode through the catacombs of the Düsseldorf arena after the final siren. The facial expression did not match the words of the national coach, who drew a positive first conclusion of his upheaval despite the 30:32 (17:17) defeat of the German handball players against Portugal.
"That was an extremely important week to work with the new guys. We gained a lot of knowledge. The new guys presented themselves very well. They will put a lot of pressure on," said the Icelander after the "Handball Day" in North Rhine-Westphalia -Westphalian state capital, where its turned inside out team was welcomed with applause after being defeated in the endurance test.
Four goals each from the best German throwers Johannes Golla, Lukas Zerbe, Marcel Schiller and David Schmidt were not enough to win the German team in front of the officially retired ex-captain Uwe Gensheimer. On Friday in Luxembourg in the first duel with the sixth in the European Championship (30:28), Germany showed a lot of enthusiasm and aroused hope for the European Championship in January.
The team initially followed up on this performance in front of 5,478 spectators in Düsseldorf, when mainly the young players were on the record. The total of seven newcomers, who had already drawn attention on Friday, were given a lot of responsibility on Sunday afternoon against the World Cup tenth in the first half.
"There is certainly no loser in this measure," said DHB sports director Axel Kromer with a view to the young and wild. The strong goalkeeper Joel Birlehm summed up: "There are only positive things today apart from the defeat. It was just great fun. Today a few little things were missing."
As one of the seven newcomers, the Leipziger had fitted into the game splendidly with a strong quota. Birlehm's Leipzig team-mate Luca Witzke ordered the German attack, where Golla was meanwhile the only experienced player.
Weber and Kastening cannot have a decisive influence
It wasn't long before the German offensive game got rolling. Captain Golla scored the first lead, which the German team has meanwhile expanded to four goals.
The Portuguese found their way around better the longer they played, Germany had its weakest phase to date due to several mistakes shortly before the break and did not get better into the game even after the change with the regular players around Philipp Weber and Timo Kastening.
During a break, Gislason scolded his team, who fell behind with four goals. The game was more open now. As in Luxembourg, Till Klimpke from Wetzlar stood out in the goal and helped the German team to catch up. An exciting final phase developed with a better ending for the Portuguese.



www.sport.de