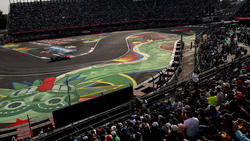 Valtteri Bottas surprisingly took pole position at the Formula 1 Grand Prix of Mexico in 2021, beating the big favorite Max Verstappen (Red Bull).
Bottas set a best time of 1: 15.875 minutes and, together with his team-mate Lewis Hamilton (+0.145), occupies the front row. Third was Verstappen (+0.350), fourth local hero Sergio Perez (+0.467).
Pierre Gasly (AlphaTauri), Carlos Sainz (Ferrari), Daniel Ricciardo (McLaren) and Charles Leclerc (Ferrari) landed on the other positions. Yuki Tsunoda (AlphaTauri) and Lando Norris (McLaren) rounded off the top 10. Sebastian Vettel (Aston Martin) was eleventh, Mick Schumacher (Haas) was 18th.
Why was Mercedes suddenly so fast?
Possibly because the team was bluffing in free practice. Hamilton had lost six and a half tenths in the last session. Red Bull was a huge favorite. Which suggests the suspicion: Has Mercedes once again piling up and bluffing?
At least that is Nico Hulkenberg's suspicion. Mercedes delivered "a staged play": "They talked it away, Lewis moaned a lot on the radio. They must have planned the thing correctly. And in the end they came out with the ax."
Helmut Marko is also convinced: "That was a very good bluff from Mercedes," he says in an interview with "ServusTV".
Hamilton, on the other hand, asserts that he has "no idea" where the speed suddenly came from: "First they were four tenths ahead, then six. For whatever reason, but in qualifying we were suddenly faster. I'm just as surprised as everyone else. But of course we like to take it! "
Would Red Bull still have a chance at pole?
Rather not. What certainly didn't help: Perez drove in front of Verstappen in the last Q3 run. Before Perez, however, Tsunoda drove off the track and stood in the way of the Mexican. That, in turn, threw Verstappen off his feet.
"In front of me there were two guys off the track. I was sure that they would give yellow flags. So I slowed down and the lap was gone," says Verstappen. However, he has to admit: "Our balance wasn't good either."
Marko explains: "We didn't manage to get the tires into the correct temperature window. I think otherwise we would have come very close. Or maybe in between." The Red Bull motorsport consultant admits: "Our superiority is gone."
On which tires do the top 10 start?
Almost all of them on the yellow medium. Only Yuki Tsunoda (AlphaTauri), who finished third in Q2, has to start on the soft. The logic behind this should have been to bring him reliably into Q3 so that he could pull his team-mate Pierre Gasly in the slipstream.
Verstappen also started his second Q3 round on the soft. But when it was clear that his time would be enough, he stopped and drove to the pits. Nevertheless, Verstappen lost the Q2 fastest time to Hamilton by 0.009 seconds.
Why did qualifying take longer than planned?
Thomas Gottschalk is not the only one who pulls over on Saturday evening. Qualifying in Mexico had to be interrupted for a few minutes in Q1. Lance Stroll (Aston Martin) lost control of his car at the last corner and crashed into the TecPro barrier, which had to be repaired under the supervision of FIA race director Michael Masi. However, because of his engine change, he would have had to start from the very back one way or another.
Small side note: In Stroll's crash, the transponder of the timekeeping apparently flew over the start and finish line, so that a lap time of 1: 20.873 minutes was counted. At the time, that was 1.397 seconds faster than Nikita Mazepin (Haas).
Shortly after the accident, Aston Martin gave the all-clear via Twitter: "Lance was involved in an accident weighing 12g. He has now undergone preventive examinations. His vital signs and x-rays are normal. The FIA ​​has confirmed that there is no need for further medical examinations. "
What did Kimi Raikkonen do wrong?
An investigation has been opened against the Alfa Romeo driver for ignoring red flags. He was on his way to pit lane when Stroll's accident happened. But at the last minute he switched from the pit lane back to the track, so that he drove past the stranded Aston Martin at walking pace.
Naturally, this is a rule violation. When red flags are shown, all drivers must pit at the earliest opportunity.
Raikkonen was driving through the stadium when his race engineer radioed him that yellow flags were being waved. Then he turned in the direction of the box. Then came the clear command: "Red flag. Box, box!" Whereupon Raikkonen, curiously, turned back onto the track.
He will probably have to explain why to the FIA ​​race stewards after qualifying.
Did Mick Schumacher make it in Q2?
No. The Haas pilot took 18th place. He was 0.445 seconds faster than his teammate Nikita Masepin. In addition to the two, Fernando Alonso (Alpine), Nicholas Latifi (Williams) and Stroll also got hit in Q1.
"I didn't get everything out of the car that was there. It's a shame," says Schumacher.
Vettel was also on P16 shortly before the end, but made it to eighth place in the last second and thus into Q2. Bitter from an Alpine point of view: Esteban Ocon, for his part already charged with a motor penalty and thus virtually out of competition, kicked Alonso out of the top 15 by 0.326 seconds.
How did Sebastian Vettel continue after Q1?
In Q2 it was also the end of the line for the second German in the field. Vettel drove a greatly improved second lap, but in the end he was 0.273 seconds short of P10 (Norris). He left with Raikkonen, George Russell (Williams), Antonio Giovinazzi (Alfa Romeo) and Ocon.
Which drivers move back on the starting grid?
Four drivers swapped several components of their power unit before qualifying and are therefore moving to the end of the grid. They are Norris, Tsunoda, Ocon and Stroll.
---
---
The "internal" order of the quartet at the end of the field has nothing to do with who reported his engine change to the FIA ​​and when. The only decisive factor is the qualifying result.
Russell suffered a gearbox damage in Friday practice, in which he had already installed the racing gearbox. He also had to change the gearbox and thus moved five positions back on the starting grid.



www.sport.de