RB Leipzig bagged big points in the 2: 1 against Borussia Dortmund and thus got in return for the most recent duel. Coach Jesse Marsch was also very pleased. However, the US-American also made points of criticism, precisely because against this BVB far more would have been possible in terms of scoring goals.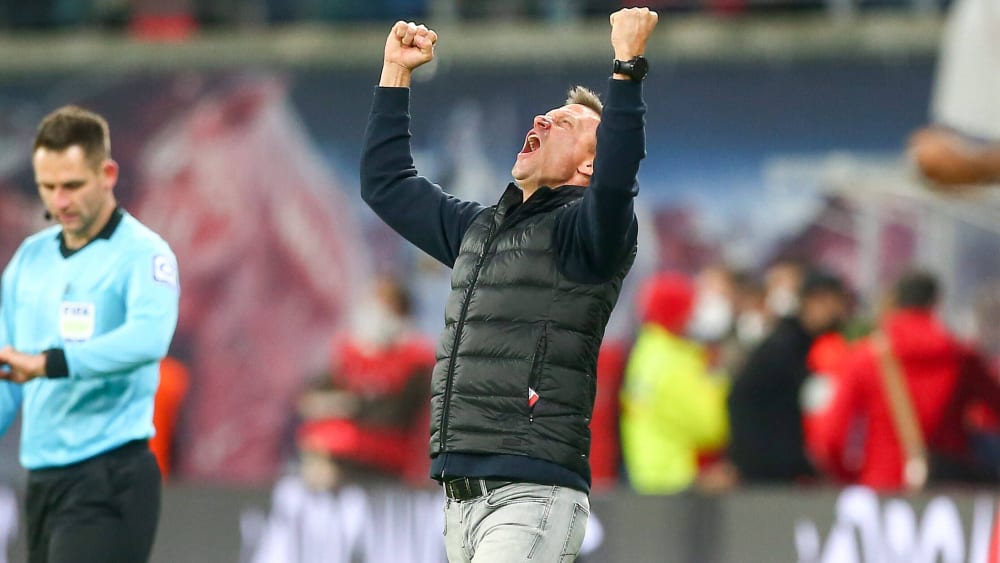 Cheers: Jesse Marsch celebrates the 2-1 against BVB.
imago images/Picture Point LE
After the all-important 2: 1 against BVB on Saturday evening, Jesse Marsch admitted openly and with noticeable joy about the three-point after the game in an interview with "Sky". Nevertheless, the Leipzig coach, who was temporarily allowed to record the jump to 5th place in the Bundesliga, immediately warned: "But there is still so much to do."
Because above all the exploitation of chances was once again cause for complaint. Marsch had to watch again how his team, which was almost completely superior even against the black and yellow team, missed a lot of very good opportunities and in the meantime even had to accept the 1: 1 by Marco Reus, who expressed himself frustrated afterwards.
"I've never seen Dortmunders who …"
"We made it difficult for ourselves again. I think we could have scored three, four or five goals today," said Marsch and was absolutely right. Because only the strong Christopher Nkunku or Dominik Szoboszlai were desperate a few times, the former even hit the left post.
The 2-1 winning goal scorer Yussuf Poulsen also knew that on this 11th Bundesliga matchday, the first reunion with BVB since the cup final in May (1: 4) would have been more possible: "We felt more aggressive and better in the duels. I have never seen Dortmunders who made so many mistakes in the build-up game. Some of them just played balls out of the way. We have to praise the team, everyone participated in us. " Just missed more hits and the associated early decision.
Otherwise, however, a lot was very good – especially that RBL was not punished late for the usury of opportunities, in contrast to the recent 1-1 draw in Frankfurt, for example. "We played very well from the start. We had a lot of good individual performances," said the Leipzig coach, describing the positive aspects, but added again: "But there is still a lot more to do."
For Marsch, Silva is "getting better and better"
Marsch also commented that Poulsen had once again been preferred to André Silva, who was brought in from Frankfurt in the summer, and that the Dane had made the decisive 2-1 seconds before his substitution for the Portuguese – with well-known words, enriched with well-known praise for Silva: "I think André plays very well for us. He was very good against PSG in the first half. If he takes the penalty, we might talk a little differently. We didn't expect him to score 28 again It is normal for a player to take a bit of time. For me he is getting better and better, he is sure to be ready. "

www.kicker.de