With his 1: 1 in Leipzig in the meantime, Dortmund's Marco Reus had at least brought back his colors and nourished hopes for at least one point. The captain didn't care about that afterwards.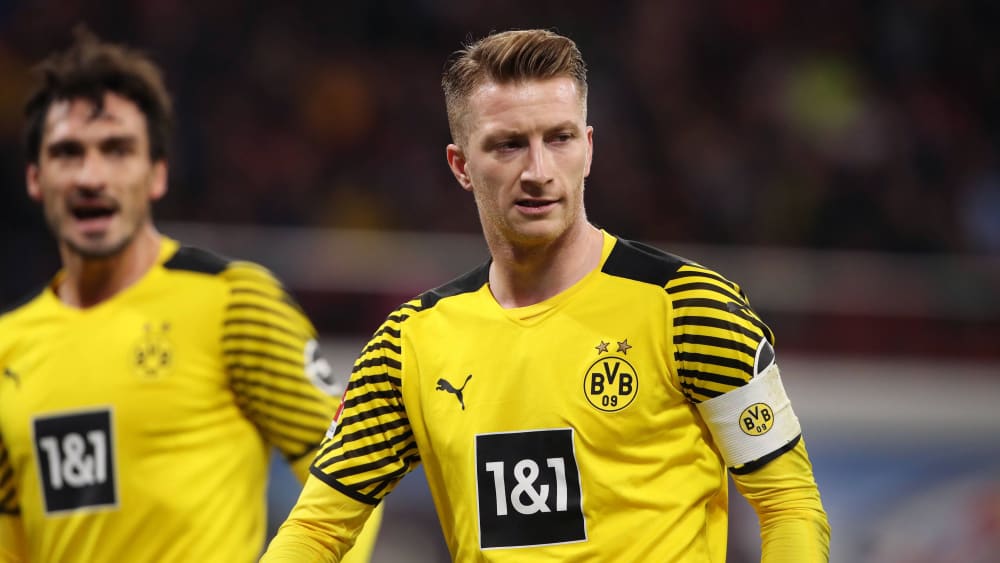 Mightily served: Marco Reus.
imago images/Contrast
Even if BVB is currently lacking some regular staff – first and foremost, of course, Torgarant Erling Haaland (injury to the hip flexor) – and even if goalkeeper Gregor Kobel briefly named the personal grievances after the 1: 2 in Leipzig as a co-reason, the keeper was just like that Marco Reus realized that this declaration alone was not enough.
Because overall the performance of the Westphalians at the runner-up was simply too harmless. Professionals like Donyell Malen, who is still goalless in the Bundesliga (eleventh first division appearance), Julian Brandt and Reus himself regularly collided with the stable RB defense, which started a bit shaky (Willi Orban, Lukas Klostermann, Marcel Halstenberg missing). Not surprisingly, the words of Kobel and Reus were clear shortly after the final whistle when talking to "Sky".
Critical tones with critical expressions
"That is of course crap, that is very clear," said Dortmund goalkeeper Gregor Kobel his analysis. "That was nothing in the first half today. Of course we didn't play a good game. We are careless." Captain Reus saw it similarly, only chose more drastic words: "You can forget the first half, in the second we switched to a back four, which suits us much better." The 1: 2 was then a "stupid" goal. "It was a deserved defeat, all the more bitter that it came about like this," said Reus in conclusion. "But Leipzig could have scored even more goals." You have to be so honest.
I don't give a shit about the gate.

Marco Reus on his own goal to make it 1: 1 in the meantime
In the meantime, the 32-year-old DFB international didn't care about his own beautifully played goal at the meanwhile surprising 1: 1: "I don't give a shit about the goal. It upsets me a lot more that we lost," he argued. "We just didn't manage to be at eye level. In terms of aggressiveness, in the opening of the game. Overall, that was not enough." The offensive man was not sobered about it, he assured. His statements are rather "the truth. We just don't deserve it."
The break comes in handy for Rose
Borussia coach Marco Rose didn't contradict his protégés, the 45-year-old rather said: "We don't need to open a barrel and it's not as if we have lost seven away games in a row. But I know that now about the second Defeat in a row is talked about. But we look at the big picture and are just happy that after the international break, which will be good for us, we will simply get a few players back. " Kobel also agreed: "We will use the time very well. We are still a super, super strong team. We just have to bring it onto the pitch."

www.kicker.de