There were three games in the BBL on Saturday. Newcomers Heidelberg narrowly defeated Bayreuth at home, Giessen Crailsheim very clearly. Bonn then took first place.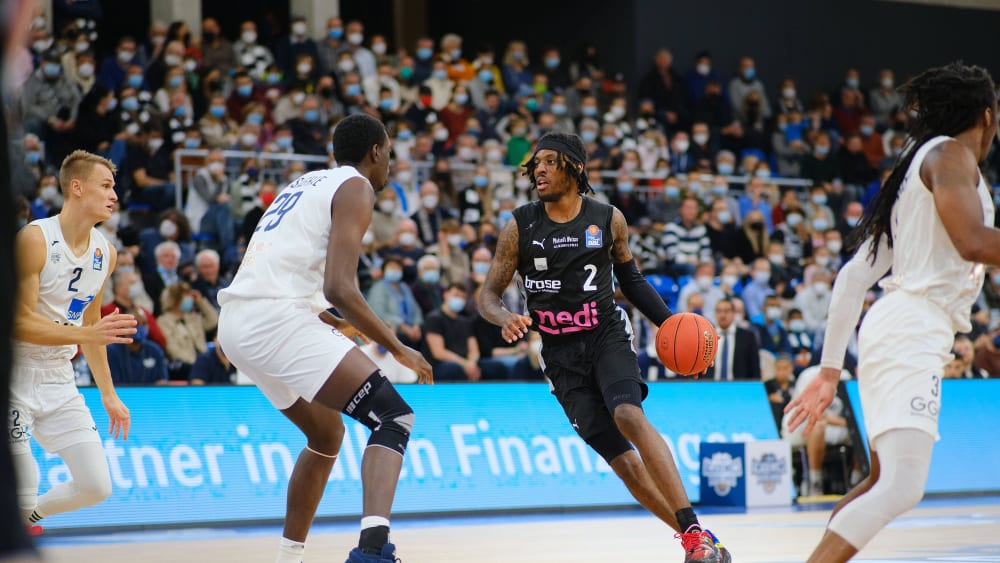 Sacar Anim for Bayreuth on the ball – the Upper Franconians kidnapped the victory from Heidelberg.
imago images/Eibner
Telekom Baskets Bonn continue to play a strong season in the BBL. The former top team also prevailed against s.Oliver Würzburg on matchday 7 with 87:79 (47:35), celebrated their fourth win in their fourth home game and even climbed to the top of the table for the time being.
Bonn (10: 4 points) is now ahead of the BG Göttingen (8: 2), which, however, has played two fewer games. The Rhinelander's best throwers were Parker Jackson-Cartwright and Karsten Tadda with 16 points each.
The MLP Academics Heidelberg had previously missed the leap to first place. The promoted team lost to medi Bayreuth in a close game with 87:89 (40:43). For Heidelberg it was the first home defeat of the season, and the team also allowed more points than ever before in this season.
Statistics for the 7th matchday
Giessen 46ers – Hakro Merlins Crailsheim 70: 104 (11: 26,19: 28,16: 25,24: 25)
Points Gießen 46ers: Omot 15, Fayne II 14, Koch 10, Bryant 8, Blake 6, Tate 6, Mccullum 5, Ky. Anderson 4, Nawrocki 2; Hakro Merlins Crailsheim: Lewis 20, Lasisi 16, Shorts 13, Harris 11, Stuckey 9, Kovacevic 8, Radosavljevic 8, Savage 7, Kovacevic 6, Bleck 4, Aririguzoh 2; Viewers: 1888
Löwen Braunschweig – ratiopharm Ulm 76:90 (14: 32,23: 10.18: 24,21: 24)
Points Löwen Braunschweig: Amaize 15, Peterka 14, Krämer 12, grades 9, Sehnal 8, N. Tischler 6, van Slooten 6, Brown 2, B. Tischler 2, Turudic 2; ratiopharm Ulm: Blossomgame 22, Felicio 19, Jallow 19, Günther 10, Zugic 8, Klepeisz 6, Herkenhoff 4, Rataj 2; Viewers: 2486
MLP Academics Heidelberg – medi Bayreuth 87:89 (25: 22.15: 21.33: 22.14: 24)
MLP Academics Heidelberg points: Martin 18, Chapman 17, Geist 16, Ely 13, Lowery 13, Ugrai 6, Osaghae 4; medi Bayreuth: Allen 16, Sajus 15, Wells 15, Seiferth 10, Wohlrath 10, Doreth 9, Anim 8, Thornton 6; Viewers: 2469
Telekom Baskets Bonn – s.Oliver Würzburg 87:79 (24: 20.23: 15.25: 25.15: 19)
Telekom Baskets Bonn points: Jackson-Cartwright 16, Tadda 16, Kulvietis 14, Ward 10, Kessens 8, Kratzer 8, Morgan 6, Hasbargen 4, Bowlin 3, Gorham 2; s.Oliver Würzburg: Rodriguez 18, Buford 16, Gielo 14, Hunt 13, Johnson 6, King 4, Moller 3, Skele 3, Stanic 2; Viewers: 4320
MHP Riesen Ludwigsburg – Niners Chemnitz 74:76 (20: 25,20: 15,13: 21,21: 15)
Points MHP Riesen Ludwigsburg: Alkins 20, Hulls 14, Darden 9, Jacob Patrick 8, Radebaugh 8, Simon 8, Bartolo 5, Bähre 2; Niners Chemnitz: Robinson 20, Atkins 11, Richter 11, Mike 9, Susinskas 9, Massenat 6, Wimberg 5, Ziegenhagen 3, Karacic 2; Viewers: 2294

www.kicker.de