Seventh game against Dynamo Dresden, seventh win: Holstein Kiel celebrates the first three under coach Marcel Rapp and climbs out of the cellar.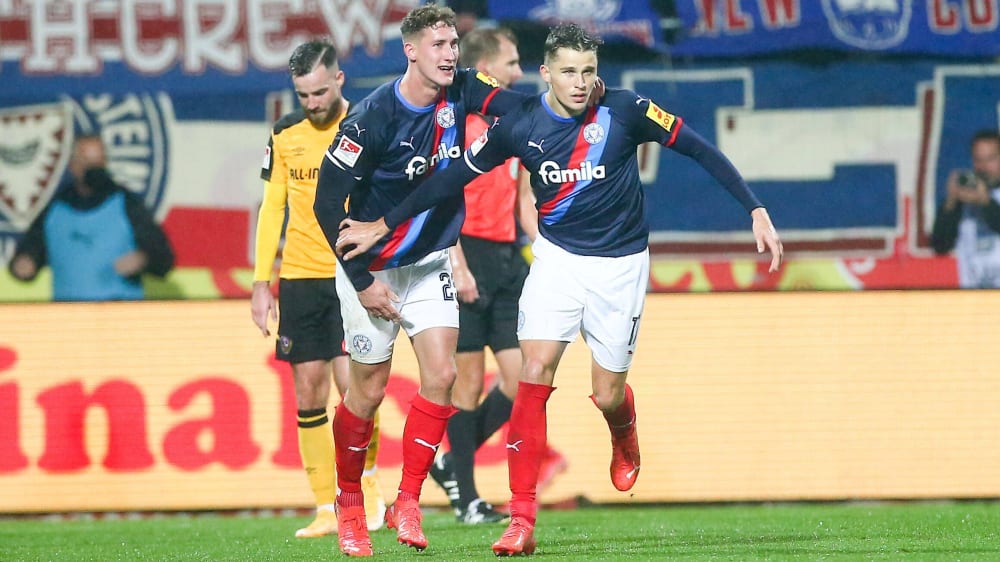 Kiel jubilation after the 1-1: Phil Neumann and goal scorer Benedikt Pichler (right).
imago images/Picture Point
Dresden came at the right time, the KSV takes a deep breath. The record against the Saxons remained sparkling white with the seventh win in the seventh second division comparison, after the long dry spell with one defeat and three draws from the last four games, the Kielers knocked over the goat. In the tableau, this means the jump from the relegation place past Dynamo to 13th place.
The relief was of course noticeable after the match. Representing the entire team, Hauke ​​Wahl said: "We knew it was a very important game for us and we really wanted to win it." The captain praised the will to win, for which Holstein would have rewarded himself. Johannes van den Bergh also spoke of a "deserved victory", as did equalizer Benedikt Pichler: "It was really strong how we worked our way back after the break. There was a lot of hard work and sweat, which is why it is well deserved."
Pichler jumps into the breach for Mühling – Reese is a dream
After falling behind – Heinz Mörschel from Dresden sank the ball after Simon Lorenz's defense was too short (32nd) – Pichler took responsibility for the superior storks from the point and made it to equalize (65th) after the actually infallible Alexander Mühling had missed his first penalty in Holstein dress after 15 successful attempts in the last action before the cabin walk and failed to Dynamo keeper Kevin Broll (45th + 1).
"We have resolved to turn the game around, which we managed to do," said van den Bergh, who gave an insight into the emotional world of the hosts after Pichler equalized: Joker Fabian Reese, who had brought fresh momentum, scored technically worth seeing with a direct shot after a presentation by Finn Porath and turned the tables in Kiel's favor within 96 seconds.
Under Rapp ("The boys deserve it, we are very, very happy"), the Northern Lights remain unbeaten (1/3/0). Wahl enjoyed the moment, but also thought a little about the future after the international break: "It was just nice to be able to celebrate with the fans again after the game. We take this feeling with us for the tasks ahead."

www.kicker.de