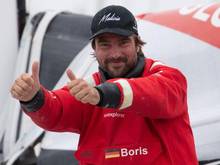 Authentic, adventurous and active in the fight against the climate: circumnavigator Boris Herrmann remains true to himself one year after his first Vendée Globe start.
His rousing sailing solo thrilled an audience of millions at the beginning of the year. Previously, Herrmann had sailed into the global limelight as "Greta's Captain" in 2019 when he sailed climate activist Greta Thunberg across the Atlantic to New York.
With his Vendée Globe adventure, which began on November 8, 2020, he then sharpened his own profile. Federal President Franz-Walter Steinmeier personally congratulated the "gigantic achievement". DSV President Mona Küppers certifies Herrmann's campaign "enormous radiance for the entire sailing sport".
The media response was enormous
The media response was enormous. Three books, TV appearances such as in the "Current Sports Studio", at the drawing of DFB Cup matches and in talk shows, award-winning productions from ARD and ZDF and the documentary "Sturmfahrt" from the Ufa Documentary testify to Herrmann's rapidly increasing popularity.
Anyone who googled his name at the beginning of November received 3.1 million hits. At the same time, extreme mountaineer Reinhold Messner came to 2.66 million, Olympic tennis champion Alexander Zverev to almost 1.5 million sites. Such a presence was previously hardly imaginable for a German sailor. "Boris Herrmann is so 'hot' as a personal brand that the potential is still far from being exhausted," confirms Brands Alive partner Markus Frömming.
The Hamburg entrepreneur, whose strategy and brand consultancy advises large corporations internationally, got to know and appreciate Herrmann during the race. His impression: "Boris Herrmann delivers rational and emotional added value. The message 'A Race we must win' offers an exciting combination of determination, perfectionism, a dash of obsession and an innovative heart in the areas of sport, climate change, sustainability and education. With this one clear positioning, Boris and Team Malizia authentically reach the relevant target groups, who also follow the zeitgeist. "
"A gigantic story"
Compared to the film world, Herrmann offers "a gigantic story": "Not a blockbuster that is peppered with superstars, but a captivating script with a clear idea, surprising moments and a crew that delivers an Oscar."
Herrmann's two-person startup in 2018 has grown into a company with 16 permanent employees. It is run by the British lawyer and director Holly Cova. In addition to Team Malizia founder Pierre Casiraghi, she played a major role in Herrmann's rise to figurehead and says: "Boris is not a pony who can only do one trick. He is an emotionally approachable protagonist and never tires of sharing his mission."
The data collected by the on-board laboratory of the "Seaexplorer" for research purposes, such as the CO2 content of the oceans, were published on November 4th in the "Global Carbon Budget 2021". "You told us that we were one of the biggest data collectors in the last year," says Herrmann proudly.
Commuting between Hamburg's HafenCity and Vannes
At the same time, construction of the new yacht is progressing. Herrmann commutes between Hamburg's HafenCity, where he lives and works with his wife Birte Lorenzen-Herrmann and daughter Marie-Louise, and the shipyard in Vannes, where the new boat for The Ocean Race 2022/2023 and the Vendée Globe 2024/2025 is being built. This weekend he and team members are visiting Schütz Composites in Selters on their way to Brittany. At the partner's, the deck shape for the new building has just been completed.
In the company of Admiral's Cup winner Udo Schütz, they want to celebrate the result and the half-time in the new building. "We have more than six months behind us and another six ahead of us," says Herrmann, whose five-year campaign is supported by business partners in such a way that "we do not have to make any compromises."
None from the "gala"
He acknowledges his popularity with friendly openness. "I'm not someone you know from the 'Gala'. It's not pure stardom, more of an exchange when people knock on my office window or speak to me on the street. I'm happy about it."
On the way up he got to know lack of money and worries about the future. His measure of success is not the hype, but the answer to a simple question: "Can we continue to be active as a team and pursue our goals?" That worked out well in the end. On course for the future, the thought of fifth place at his first Vendée Globe inspires him: "There you have the chance to improve even more."



www.sport.de