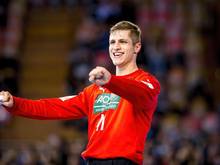 The goalkeepers could be relied on. Till Klimpke and Joel Birlehm shone between the posts in the 30:28 victory of the German handball players against Portugal, which was sixth in the European Championship, and strongly recommended themselves for further tasks.
"I'm very happy that the two who played each other in the foreground in the Bundesliga performed very well," said national coach Alfred Gislason, praising the new team of goalkeepers. That wants to confirm the good impression in the second international match against the Portuguese this Sunday (3 p.m.) in Düsseldorf.
Above all, the long-time regular goalkeeper Andreas Wolff from the Polish top club Vive Kielce is likely to have closely followed the duo's strong performance from a distance and listened carefully when the national coach was classified in relation to the European Championship in January. "That doesn't mean the door is closed for the other goalkeepers. But it will be difficult for them if both of them continue at this level."
"Difficult phase" at Wolff
Wolff (30), who rose to number 1 in the 2016 European Championship triumph of the DHB selection, is currently going through "a difficult phase" in terms of sport, according to Gislason, and was not considered for the international double against Portugal. The oldies Johannes Bitter (39), who would only be available in an emergency anyway, and Silvio Heinevetter (37) no longer play a role in the national coach's plans.
The 23-year-old Klimpke from HSG Wetzlar, where Wolff also made his breakthrough, and Joel Birlehm, one year older from SC DHfK Leipzig, embody the future. Both of them have known each other from their time together in the junior selection. "He's a great guy. We have a great relationship," said Birlehm.
The future belongs to Birlehm and Klimpke
For the native Westphalia, who will move to the Rhein-Neckar Löwen in the summer of 2023, it was the international debut in Luxembourg on Friday evening. "I got goosebumps at the national anthem and really enjoyed the game. It was a lot of fun with the guys," said Birlehm. With several saves, he played a major role in the fact that the game did not completely overturn in the German weak phase in the middle of the second half, when an eight-goal lead melted down to one goal.
Klimpke, who played his sixth international match, had blocked numerous balls in the first half and thus laid the basis for the comfortable 18:13 break. Now both are preparing to start a new era of goalkeepers. "If you're allowed to play for Germany, you always do your best. I don't want to take your place away from anyone, but I keep going. If that's enough and the national coach nominates you, you're naturally happy," said Birlehm. In any case, Gislason is not worried about the future: "Germany has never had problems in the goalkeeping position."



www.sport.de