Hamburger SV is still unable to make it to the top. Despite leading in Karlsruhe, the Rothosen came for the eighth time in this second division season not beyond a draw.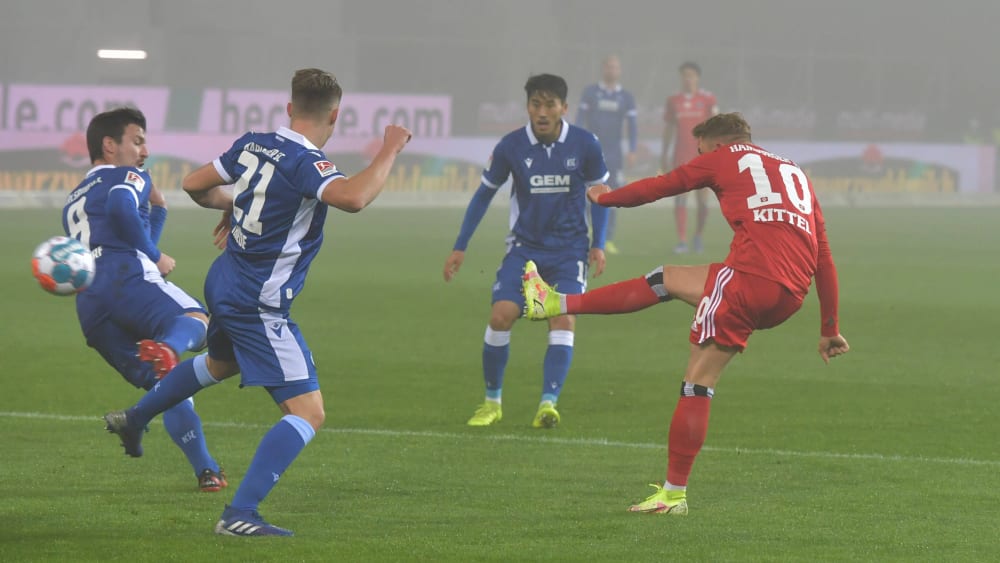 Nothing to hold for KSC keeper Marius Gersbeck: Sonny Kittel scores the Hamburg 1-0.
imago images / Jan Huebner
After twelve matchdays, Karlsruhe, where after the 2: 4 against Paderborn Lorenz played for Cueto (bank), and HSV, where Kinsombi instead of Alidou (bank) started compared to the 1-1 draw against Kiel, only had four wins each . The motivation for improvement was evident in both teams in the wildlife park.
A lively exchange of blows developed early on, in which both troops did not give each other much in alternating phases of dominance. Reis had the first good chance for the guests (5th), Lorenz (6th) and Gordon (8th) missed on the other side. Hamburg finally took the lead, against Kittel's great Schlenzer Gersbeck was powerless (14th) – but Hofmann responded early with a placed header (18th).
Shortly before the break: Hamburg under fire
Jatta missed the empty goal (23rd) after a Gersbeck slip from an acute angle – in minutes in which HSV was on the trigger. Shortly before the break, it was again for the KSC, but they also missed the second goal: Heyer and Schonlau successfully threw themselves into the shots of Wanitzek (43rd) and Hofmann (45th).
After changing sides, it was the turn of Walter Elf again, and for the first time a team was noticeably better. Heyer and Glatzel immediately gave a double chance (46th) – and after a few minutes Karlsruhe closed again. Wanitzek was not half a meter away from the second row (54th).
Kittel gives away the big chance – Wanitzek unlucky
In the meantime, the action became a bit more confused and nodding, there was less activity at the gates than in the first section. But immediately there was a huge chance for Kittel, who did not get a volley at the second post on goal (64th).
After the loss of Lorenz, who fell on his shoulder, and various other changes, it was again Karlsruhe that pressed on the second goal towards the end – and how: Schleusener knocked on (76th), Wanitzek hit on the counterattack – Johansson was still on it – shortly afterwards the post (80th). The goalkeeper also parried Gondorf's volley (83rd), on the other side Kittel shot too harmlessly for the last time (90th + 1).
Goals and cards
0:1
Kittel (14 ', right-footed shot, Jatta)
1:1
P. Hofmann (18 ', header, Heise)

Karlsruhe

HSV
The KSC is asked about the international break in Ingolstadt (November 21, 1.30 p.m.). Hamburg, which also stands still with four wins and just played a draw again, had Jahn Regensburg as a guest the day before (1.30 p.m.).

www.kicker.de