On Friday evening, 1. FC Nürnberg received Werder Bremen for the first time in the second division in the sold-out Max Morlock Stadium. The club didn't get a good evening, which Christopher Schindler, Christian Mathenia and coach Robert Klauss also confirmed.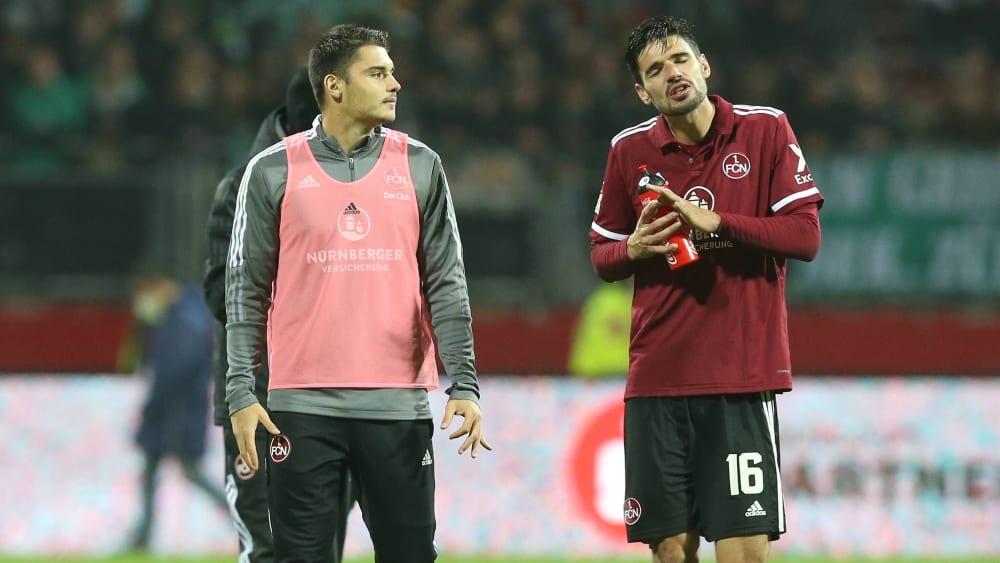 Christopher Schindler visibly unhappy after the game in conversation with Mario Suver (left).
imago images/Zink
FCN coach Robert Klauß admitted after the 1: 2 that he was disappointed "because we have planned more." All in all, the coach saw "we didn't play a good game. We didn't defend our chances well, even though we knew there would be a lot of long balls coming". The pressure from Bremen got bigger and bigger, especially in the second half, so it was only a matter of time "until one slipped – and that's why we lost in the end".
The 26-year-old saw the reasons for this not in "defending, but more in the game with the ball. We had too many ball losses and therefore constant pressure on the defense chain," said the Franconian trainer, summing up the hustle and bustle of the Nuremberg team.
In our good phase, we didn't walk through the city cheering either.
The constant pressure on the defense chain also meant a lot of chances for the Bremen guests. For a long time, the Nuremberg support Christian Mathenia was able to keep his front men in the game, although "we felt 5,000 flanks flew around our ears, which we actually defended quite well". But shortly before the end, Werder turned the game around with a double strike and inflicted the third competitive defeat in a row for the FCN. Mathenia does not want to be unsettled by this, rather he points out that "in our good phase we didn't walk through the city cheering either, which is why we remain calm now".
The late goal "was actually foreseeable"
Christoph Schindler also looked disappointed after the game and found the game "very unsatisfactory. It was far too passive and simply not good enough for a home game." Looking back, he also recognized the increasing passivity of the Red-Blacks: "The way we did it, it was actually foreseeable. We defended deeper and deeper and were actually too low in the first half." Finally, the central defender saw the "missing." Courage "as the reason that" we did not take any risks ".
After all, the Nuremberg players agreed after the defeat and were all dissatisfied with the performance against Bremen. To speak of a crisis would be too far, but the three defeats right before the international break shouldn't keep the FCN busy for too long in the fight for the top ranks. The next chance to make amends is the away game in Sandhausen on November 19th.

www.kicker.de