Gerardo Seoane found many words of praise after the 4-0 win against Betis Sevilla, which meant that Bayer 04 are only one win away from making it into the round of 16. Naturally. But Leverkusen's coach did not celebrate the goals of his eleven, some of which were brilliantly played.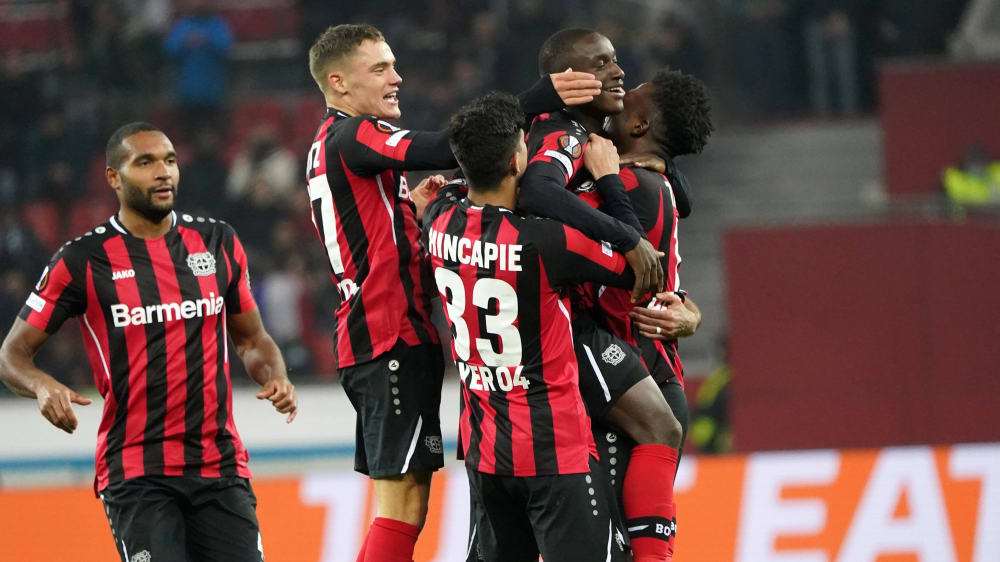 Young Leverkusen celebrate a 4-0 win against Betis.
imago images / Chai vd Laage
Rather, Seoane focused on the basic attitude of his professionals towards the game and analyzed: "We put a lot of pressure on, we had good grip in the duels, the team was incredibly compact and solidary – that had an enormous effect on the way we played."
This evening, winger Moussa Diaby, who was directly involved in all four goals, symbolized these virtues. However, Seoane preferred to praise this one because of other attributes. "I would focus on how he put himself at the service of the team, how many running duels he won backwards, that he supported Frimpong and Hincapie," said the Swiss.
It was well considered that the Werkself coach did not emphasize the spectacular offensive actions of the French international, but the defensive support of Bayer's full-backs. For one thing, Diaby was extremely careless in this regard last season. On the other hand, this aspect is one, if not the central component, when Seoane repeatedly calls for "solidarity".
In addition, the Leverkusen coach apparently sees it as the completely wrong signal to celebrate something that his team is not really delivering consistently despite their immense potential in this area. Because even against Betis, Bayer was anything but mature on the offensive, not only in the initial phase, but used the immense advantages of speed far too seldom to create clear scoring chances.
Matchwinner Diaby between genius and madness
Even match winner Diaby ("His performance stands out because of the two goals," said Seoane) early on offered his coach the full range from genius to madness in one scene. The sprinter performed a rousing solo in the 6th minute, but he immediately devalued it by missing a pass in the opponent's penalty area. A moment when his coach remembered the games in Cologne (2: 2) or against KSC (1: 2), when Bayer and the left-footer did not convert the most promising opportunities into scoring chances and ultimately into hits.
However, things went differently against Betis afterwards. Diaby was able to attest to the necessary learning process in the following 84 minutes. The 22-year-old and Florian Wirtz (18), who has now also shone as a hanging tip, are a few steps further on their way to adulthood than, for example, summer access Amine Adli (21), who has clearly improved, but in Leverkusens on average 20 , 5 years young offensive with his speed and bravado, although courageous and committed, but often acted just as wild and uncontrolled.
Nevertheless, the 4-0 win after five games without a win will also be good for the French U-21 international. Although Seoane already knows his team so well after a few months that he knows that he does not know anything about the effects of this possible liberation, which despite the clear result was not a gala.
Seoane: "I'm not a clairvoyant"
When asked what significance the triumph against Betis would have for the next games in terms of self-confidence and belief in one's own strength, the 43-year-old refused to make any prognosis. "I have no idea," replied the coach, "I'm not a clairvoyant. We're happy that we won and that we performed well. Now it's a matter of getting the best possible performance in three days."
Seoane could have added another again. Because if the Werkself, which with an average age of the starting eleven were more than five years younger than their opponents, want to be a top team, they have to become a more reliable figure for their coach despite their youth. And on this path to maturity, praise for work that is beneficial to the team may be of much greater help than cheers for playful highlights.

www.kicker.de