Both Leverkusen center strikers have canceled their international trips due to health problems. Bayer 04 are also trying to ensure that Charles Aranguiz, who is also injured, does not travel to Chile for the national team.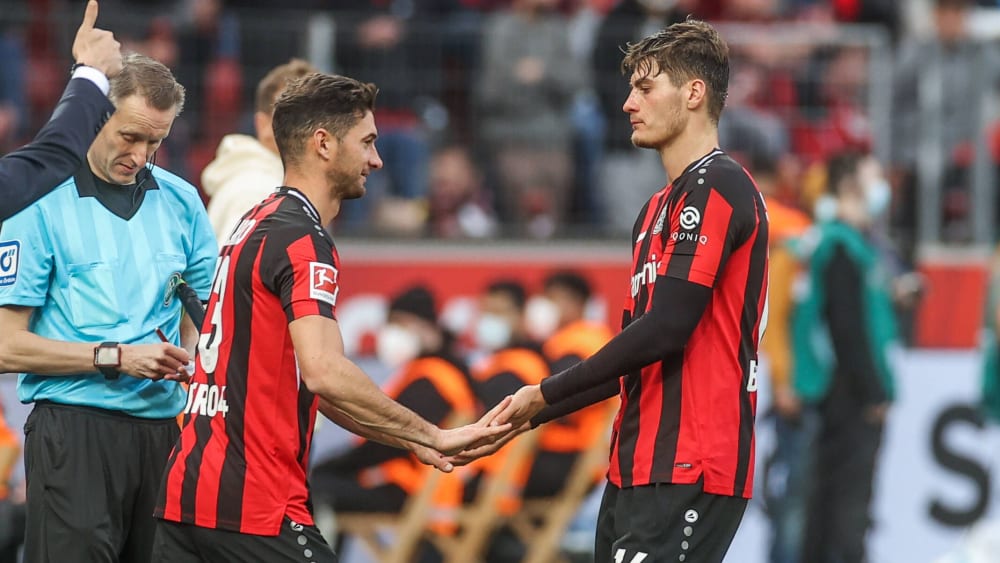 Lucas Alario and Patrik Schick (right) stay in Leverkusen during the international break.
imago images/RHR-Foto
They were both nominated and were on the list of Leverkusen professionals until Friday afternoon who were supposed to travel to their national teams after the Bundesliga game on Sunday at Hertha BSC. But it is now clear: Patrik Schick, who is currently out with a torn ligament in his ankle, will not go to the Czech Republic any more than Lucas Alario to Argentina.
In the case of Alario, this was not necessarily to be expected, as he had been on the bench in the Europa League game against Betis Sevilla on Thursday despite muscular complaints in the calf caused by chronic knee problems. And coach Gerardo Seoane has not written off the penalty area striker for the Hertha game either. But the complaints are persistent. And in his current condition, Alario, who has had to step back for about two weeks, would hardly have been a serious alternative for the Albiceleste.
The two goal scorers will therefore work on their recovery during the upcoming international break in Leverkusen. Bayer is hoping for the same in the case of Charles Aranguiz, who is incapacitated by a muscle tendon injury in the calf.
Despite this injury, which has condemned the 32-year-old to a spectator since mid-October, he was nominated for the international games in Chile. Bayer is now betting that the midfield strategist will also stay in Germany in order to avoid the stress of travel and to work on his comeback in the best possible way.
Whether such a sensible decision will be made at Aranguiz, as in the case of Schick and Alario, is being eagerly awaited in Leverkusen. After all, the leading player of the Chilean national team has traveled to the international matches in his homeland under almost all unfavorable circumstances.

www.kicker.de