Union Berlin lost 2-1 to Feyenoord Rotterdam for a number of reasons. According to Marvin Friedrich, the goalkeeper took Andreas Luthe under protection after his gross blunder.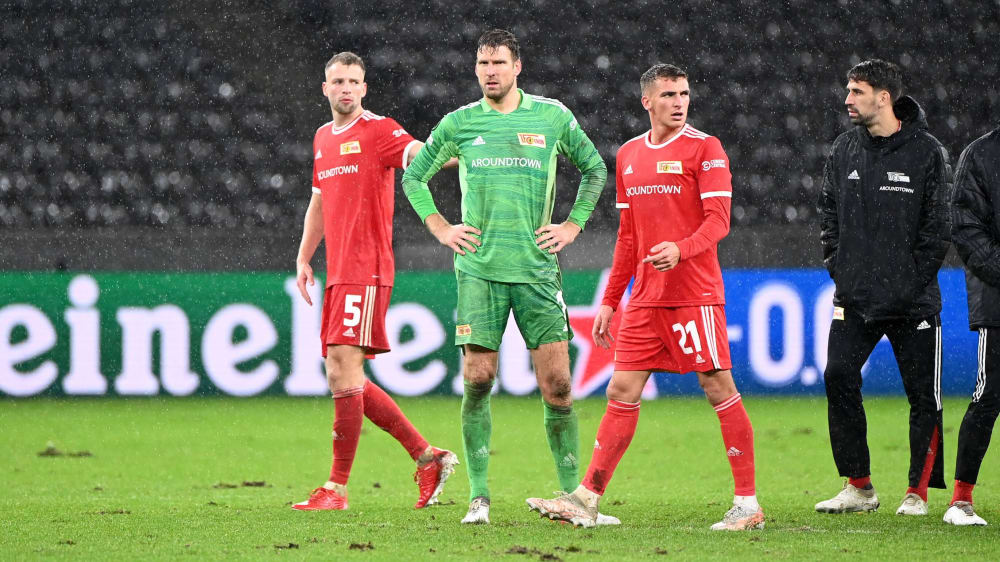 Cheer up: Unions Marvin Friedrich (left) and Rani Khedira (right) defended keeper Andreas Luthe (in green).
imago images / Matthias Koch
It was the scene of the game. Union Berlin goalkeeper Luthe took the ball briefly after a back pass from defender Tymoteusz Puchacz – but then slipped away in his own six-yard area. The goalkeeper then had to watch as Feyenoord Rotterdam's Cyriel Dessers easily slid in to make it 2-1.
The next defeat in the Europa Conference League could not only be determined by the mistake of the tragic figure of the Köpenicker. "We come out of the half-time break well. We have chances, but we don't use them," said central defender Friedrich, who was back on the field for the first time after his corona infection – and then right from the start.
He is our backing.

Marvin Friedrich on Andreas Luthe
He expressly did not blame his goalkeeper. "He's playing an outstanding season," replied Friedrich rather, to say even more clearly: "He's our backing, mistakes just happen. Especially with this place." Rani Khedira also assisted Luthe. In "such a shitty place" in the sold-out, but rain-strewn Berlin Olympic Stadium, such a mistake could well happen, you have to be honest, said the midfielder at RTL +. "Andy can't help it."
Nevertheless, Union Berlin is still in last place in Group E after four match days in the ECL and has little chance of progressing. On top of that, captain Christopher Trimmel and attacker Cedric Teuchert will each be missing at least one game due to being sent off. "It's just bitter that we don't win here," said Friedrich once again after a really good performance by his team.

www.kicker.de