Tottenham Hotspur have made an important step towards the knockout round of the Europa Conference League: In Antonio Conte's debut, the home side won 3-2 against Vitesse Arnhem.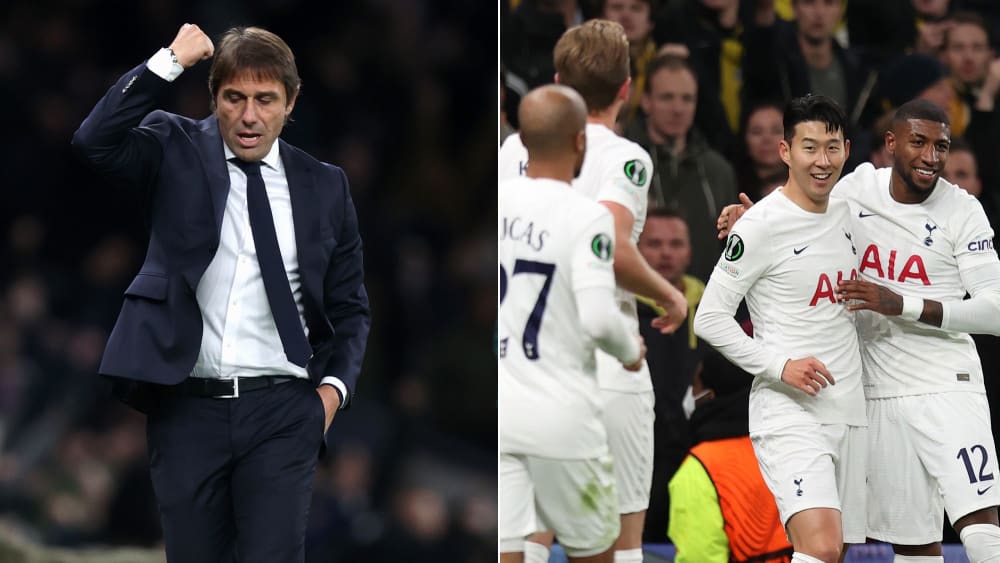 Cheers, because you can rely on Son: Antonio Conte (left) celebrated a successful debut.
Getty Images
How does a successful debut as a Spurs coach work? First and easiest step: set up Heung-Min Son. The former Bundesliga professional scored the important 1-0 in José Mourinho's debut (a 3-2 win against West Ham United), and even scored the golden goal in the first game under Conte predecessor Nuno Espirito Santo (1-0 against Manchester City). And on Thursday – as the "Son Law" wanted it – the South Korean scored the first goal under the direction of Conte.
In the home game against Vitesse Arnhem, however, the former Schalke keeper Schubert helped a lot, because he put the ball in front of Son after a save against Lucas Moura (14th). But the fans also liked the way Spurs, who played 3-4-3, celebrated football. After an exemplary counterattack, Lucas Moura set a tunnel against Schubert to 2-0 (23rd). Shortly afterwards it was 3-0, because Rasmussen maneuvered the ball into his own goal during an attempt to clear it (28th).
Rasmussen makes it into the history books
Four minutes later, however, Rasmussen secured an entry in the history books because he was the first professional to score an own goal and goal in one game in the Europa Conference League with his header to make it 3-1. And the Spurs remained too passive as a result, shifted too many gears back – Bero put the ball in the lower right corner before the break to 2: 3 (39th).
In the second round, there were three evictions in particular that caused a stir. The guests did not know how to use the traffic light card for Spurs professional Romero (59th), before Doekhi picked up two yellow cards within four minutes (80th) and keeper Schubert was thrown off the field with a straight red for a handball in front of his penalty area (84th minute). ).
Goals and cards
1:0
Son (15′)
2:0
Lucas Moura (22′)
3:0
Rasmussen (28 ', own goal)
3:1
Rasmussen (32′)
3:2
Depend (39′)

Tottenham

Arnhem
Game info
Stadium
Tottenham Hotspur Stadium
The successful competitive debut for Conte is followed by the Premier League debut as Spurs coach: the away game at Everton awaits on Sunday (3 p.m., LIVE! At kicker).

www.kicker.de