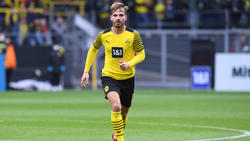 Shortly before the end of the transfer period, defender Marin Pongracic was loaned out for one season by VfL Wolfsburg to Bundesliga rivals Borussia Dortmund. The 24-year-old never saw any prospects at Lower Saxony, but things have been going much better at BVB since then. In an interview, the German-Croatian has now dealt violently against his home club.
It is an open secret that Pongracic was no longer happy in Wolfsburg towards the end. What the defender in the Twitch series "wing pliers" now revealed, however, should get him some trouble.
In an interview with the artist SSYNIC, Pongracic said: "I was written off in Wolfsburg, they didn't feel like me anymore."
Although he shouldn't actually "bang it too hard because I'm still a player of theirs", the national player initially slowed himself down, but shortly afterwards really got going.
"They started faxing. That's when I noticed that they also want me to go on my own, to make room for others," Pongracic said: "Disgusting, at eleven against eleven I train all at once not with. I want to freak out, I want to go to van Bommel, I want to grab him. " Fortunately, he didn't.
BVB: Pongracic change for Wolfsburg "also a little shit"
In Dortmund, the defensive man is finally satisfied again. After all, he has already been used eleven times for BVB. No wonder he wants to stay for the long term.
"I'm on loan for a year, with the option to buy. It's not too high. If I do that to some extent, I hope they'll do that," explained Pongracic.
Should Borussia strike, according to media reports, 12 to 13 million euros would be due. Money well invested, believes the professional.
"For them (VfL Wolfsburg, editor's note) it sucks too. If I go through the roof here, everyone in Wolfsburg will say: 'What did you do here, who did you let go ? ' I'm extremely pleased, "smirked Pongracic.
Pongracic had "really stupid offers"
For a long time it didn't look good for him in the summer. "There were few options. Of course, I don't borrow anywhere and play less for so or so much money. I can't do without huge sums, that doesn't work, that makes no sense," Pongracic clarified. He had "shit options, really stupid offers that make no sense".
It wasn't until late that the door opened for a BVB change. "It's shocking when you think about it: I'm not an option in Wolfsburg, but Dortmund is going to get me," said the 24-year-old, who went up against VfL.
"They wanted to get rid of me, but didn't want to tell me directly. If they tell me directly, they have to take part of my salary on this loan. Dortmund took over the salary," revealed Pongracic.



www.sport.de