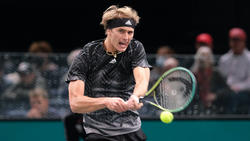 15:15
Around 4 p.m.
Taylor Fritz has just turned his second match point in the tie-break of the 2nd set, beating Cameron Norrie 6: 3 and 7: 6. As a result, Court Central is now vacant. However, after a match is canceled, the organizers take the privilege of stretching the program a little. Therefore, it should not continue until 4:00 p.m.
15:00
Dimitrov im Palais Omnisports
Dimitrov first served at this tournament when the arena was still called Palais Omnisports. That was 2012. For many years the Bulgarian never got past the third round until the right-hander fought his way to the semi-finals in 2019, where Novak Djokovic set the stop sign. After his absence twelve months ago, the current number 30 in the world is set at 16 this week. Two sets of three matches have already been booked for him. In just under two hours each, Dimitrov prevailed against Richard Gasquet and Karen Khachanov.
14:45
Zverev in Paris-Bercy
In the Accor Arena, the fourth in the world rankings is also placed on 4, because the top people Novak Djokovic, Daniil Medvedev and Stefanos Tsitsipas are also at the start or were in the latter case. After a walk-through, Zverev faced Dušan Lajović yesterday and beat the Serb in two sets. The German has played in Paris-Bercy for the fifth time since 2017, was in the final here a year ago and lost out in three sets against Medvedev.
14:30
Great year for Zverev
With the tailwind of his 18th tournament victory, Zverev traveled to Paris. Last week, the 24-year-old won the 500 tournament in the Wiener Stadthalle and celebrated his fifth title this year. The right-hander had previously won Olympic gold and triumphed in the 500 from Acapulco and the Masters in Madrid and Cincinnati. In total, the man from Hamburg now has five Masters titles.
14:15
Possibly an earlier start
We may even be a little earlier because Gaël Monfils was unable to play for his match against Nokvak Djokovic. The world number one reached the quarter-finals without a fight. A match scheduled for today on Court Central has therefore been canceled. And although Dominik Koepfer put up bitter resistance in the first duel of the day and only lost to Hubert Hurkacz after more than two hours in three sets, the schedule is now relaxed. Cameron Norrie and Taylor Fritz are currently on the pitch. Depending on how long the two of them need, it may be our turn around 3:00 p.m.
14:05
Good morning!
Hello and welcome to the Rolex Paris Masters! The round of 16 are on the program today at the 1,000th tournament in the French capital. One of them will contest against 3:30 p.m. Grigor Dimitrov and Alexander Zverev against each other.



www.sport.de