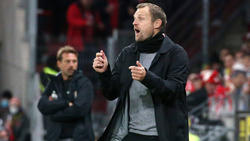 As a strong fifth in the table, Mainz 05 will host Borussia Mönchengladbach on Friday. Under coach Bo Svensson, the Rheinhessen have made an impressive development.
Bo Svensson came to Bruchweg with a simple promise in his luggage. It wasn't the seemingly impossible relegation with FSV Mainz 05, but that wasn't the main focus for the coach at the time. "There is no guarantee of results," said the Dane when he was introduced in January, "but there is a guarantee of performance. I stand for the Mainz virtues." And Svensson has undoubtedly kept that promise.
Because not only did the 42-year-old save the FSV in the second half of the season with an unprecedented race to catch up sensationally from relegation, in the new season the 05ers will seamlessly build on these performances. Mainz will go into the home game against Borussia Mönchengladbach on Friday evening (8.30 p.m. / DAZN) in fifth place and would even stay on a Champions League place with a win.
"Series or no series, I really don't care."
It is an impressive development that Svensson's handwriting bears – even if he likes to pretend to be a tireless admonisher. "Table back and forth", he said on Thursday in his typical way, it was "not that meaningful". The fact that his team could achieve their fourth competitive win in a row is "0.0 issue for Svensson. Series or no series, I really don't care," he said, emphasizing: "The goal we are working towards is this Reliability of performance. "
And because this is getting better and better under Svensson, who made his Bundesliga debut as a player in Gladbach in 2006 and found his fortune a year later in Mainz, the enthusiasm for the FSV is returning to the city. This is also thanks to Christian Heidel's nose. In Svensson's last active season 2013/14, the manager often sat next to the then substitute on the bench – and what he saw impressed him.
Dear trainer in Mainz than teacher in Denmark
"I listened to that for a year and said internally: We already have the next coach," today's sports director told the "Sportbuzzer". And that's why Heidel Svensson convinced instead of becoming a teacher in Denmark as planned, but rather to pursue a career as a coach. Only as a junior coach at Bruchweg, and via FC Liefering in Austria's second division, I went back to Mainz.
Under Svensson, the 05er are convincing with tireless running and passionate duel behavior, powerful pressing and straightforward switching game to the two fast strikers Karim Onisiwo and Jonathan Burkardt, who are currently in top form. It is precisely these Mainz virtues that Svensson received as a player from coaches Jürgen Klopp and, above all, Thomas Tuchel.
Svensson still doesn't like to hear comparisons with his famous predecessors, and Heidel also emphasized: "Bo has an innate authority and has taken a lot from his coaches Klopp and Tuchel. But he is not a copy of the two, he is Bo Svensson."



www.sport.de