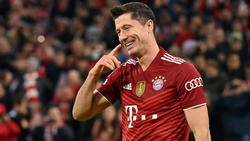 With goals 79, 80 and 81, Robert Lewandowski from FC Bayern once again caused a sensation in the Champions League. The attacker's extraordinary abilities are also well known in England. No wonder that the British TV experts and ex-national players Rio Ferdinand and Peter Crouch went crazy with their hymns of praise.
With his 100th game in the Champions League, Robert Lewandowski belongs to an elite circle of football legends who have broken this mark in their careers. But even at 33 years of age, the Pole is still a long way from being scrapped, and is already striving for the next record.
---
---
Lewandowski was able to crack a record in the Champions League game against SL Benfica on Tuesday evening. In the 5-2 success of his team, the center forward scored a three-pack and now has 81 goals after 100 top-class encounters. No other player had more goals in history at this point.
With numerous triumphs in the Bundesliga, the DFB Cup and winning the Champions League, Lewandowski has already collected many big titles in his active career. But with the Ballon d'Or, the clippers are still missing an important personal award in the trophy cabinet.
According to former English attacker Peter Crouch, there is no doubt Lewandowski should get the title this year.
Disregard "would be a farce"
"I think it would be a farce if Lewandowski didn't even win the Ballon d'Or in his career," said Crouch during the premier class broadcast on BT Sport. The 40-year-old believes Lewandowski's turn will be this year. "He's already scored 22 goals," said Crouch: "I didn't have 22 goals in May."
Although Cristiano Ronaldo and Lionel Messi had been "the benchmark" for years, it was now Lewandowski's time to win the Ballon d'Or.
Rio Ferdinand was also full of praise for Lewandowski. The Pole could "score any kind of goal," said the former Manchester United center-back. Because of his versatility, Lewandowski is a "genius," said Ferdinand.
According to the 42-year-old, Lewandowski would have earned the Ballon d'Or in 2020. But because of the corona pandemic, the award was not given last year. In 2021 it should finally be ready for Lewandowski.
"Robert has kept his high level"
Another supporter of FC Bayern's top performers is his national coach Paulo Sousa.
"It would be a great injustice" if his protégé did not win the Ballon d'Or, Poland's head coach told the "kicker".
"Robert maintained his high level, not only in terms of goals but also in terms of assists," said Sousa. A thesis that Lewandowski proved with his most recent appearance in the Champions League.



www.sport.de